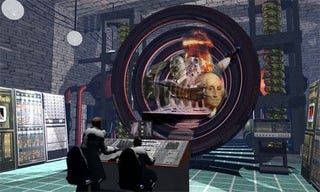 The finalists for the 2009 Sidewise Awards, honoring the best in alternate history, have been announced. And just in case the version of you in this universe hasn't already read the novel and five short stories, here's your primer.
The Sidewise Awards have two categories: long form, for works longer than sixty-thousand words, and short form, for pretty much everything else. Short stories and novellas are most often nominated, but everything from poetry to comics have also been up for the short form award over the years. Previous winners in the long form category include , Philip Roth's The Plot Against America, comic (and all-around) genius Stephen Fry's Making History, and Michael Chabon's The Yiddish Policemen's Union.
There's only one long form finalist this year, Robert Conroy's 1942: A Novel, although apparently the judges can simply make no selection at all if they don't think it deserves to win. On the short form side, there's a full slate of contenders. Here's what you need to know and where you need to go to get caught up on the various finalists.
1942: A Novel by Robert Conroy
One of alternate history's most prolific authors, Conroy's stock in trade is to pick a given year, make that the title of his book, and come up with the biggest military-related historical divergence he can. (He's already done 1945, 1862, and 1901.) In 1942, he explores what would have happened if the Japanese attack on Pearl Harbor had been even more successful, completely crippling the US Navy and leading to the occupation of Hawaii. The book follows an American intelligence officer as he sneaks back into Hawaii to retrieve a captured codebreaker who could be the key to winning back the islands. He also romances a beautiful Pearl Harbor widow who has been chosen to be the personal mistress of the head of the Japanese secret police. The officer's various activities place him in great danger, and what follows is something between a twisted World War II epic and an episode of 24.
"Yes, We Have No Bananas" by Paul Di Filippo
Di Filippo is known for creating some seriously weird alternate universes, but at its most basic this story concerns a world where global warming happened a lot sooner and was a lot worse. Sort of - at the very least, a seriously ancient Daniel Webster is still somehow the President, and that's one of the more mundane details. There are quantum debates, Nubian princesses, growing apathy toward ocarinas, and a hapless hero named Tug Gingerella at the center of it all just trying to get by. In fact, the title might just say it all: there really are no bananas in this world, and apparently that's enough of a difference to make everything go utterly bonkers. It's maybe not as rigorously researched and thought out as some of the others, but it's a hell of a lot of fun.
The story is collected in Eclipse 3. Buy it here.
"The Fixation" by Alastair Reynolds
Folks, I'll be honest here - "The Fixation" has got my vote. Not only does the author share my name (even if he has misspelled it), but the work also concerns one of my favorite topics, archaeology. Oh, and the story has shades of The Gods Themselves by Isaac Asimov, an author who I occasionally discuss. So I'm hideously biased. Even so, this is an inspired story on its own merits, as a group of archaeologists from one universe steal entropy from another in order to revert ancient artifacts back to pristine condition, with dire consequences for a second team of archaeologists in one of the universes that's "donating" entropy. The story centers on one of history's great mysteries, the ancient Greek artifact known as the Antikythera Mechanism, which may or may not be an ancient computer.