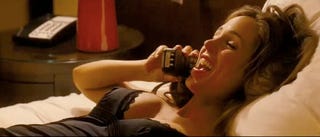 We're not really sure what Eliza Dushku's new film Locked In is about. But judging from the trailer, if you have sex with her you can talk to the dead! Plus awesome new shorts and behind-the-scenes on Monsters.
Locked In
Suri Krishnamma's Locked In is shrouded in mystery. We're still not sure what Lester from The Wire is doing in it, but he seems to be some sort of spiritual guide that ferries spirits through Eliza's downstairs parts? Maybe, or maybe she can talk to children in comas that she ran down in her car. Here's the synopsis from imdb, what do you think?
The story moves through the lives of two fragile yet determined people and maps a private geography of love, loss and ultimate redemption. Josh leaves his advertising career at its peak, everyone wants either to be him or to have him. Then he walks away from it all, the money, recognition and the life. A car accident will leave his daughter in a strange coma and when everyone has given up she starts communicating with him, or is he going mad?
Locked In trailer:

Seriously, any explanations would be greatly appreciated.
Upside Down
Last week we showed you poster images from the new scifi romance film Upside Down about a pair of star-crossed lovers living in worlds sandwiched on top of one another. The main character, who is desperately trying to reach the girl in the upside down world next door played by Kirsten Dunst, sent a set pic to Jim Sturgess online with a little note. Can't wait to see the first footage from this!