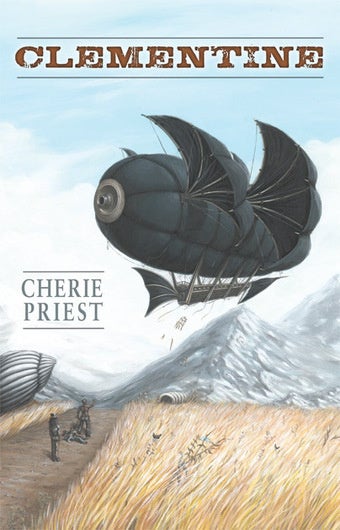 June brings speculative fiction for every taste. Priest returns to the world of Boneshaker, and Miéville offers up a giant-squid epic. And whet your scifi appetite with some adventurous new short stories.
Clementine, Cherie Priest (Subterranean Press)
Cherie Priest returns to the steampunk world of her Hugo-nominated Boneshaker with this new novel about two dangerous, notorious, and thoroughly American characters. Mara Isabella Boyd, a former actress and Confederate spy turned Pinkerton detective, is charged with seeing the airship Clementine deliver its cargo safely, but former slave/current sky-pirate Croggon Hainey wants his property back. But there's bigger game afoot, and the two quickly find themselves on the same side. Shady postbellum types have been an American trope since Jesse James, but it should be a blast to see what the ultra-sharp Priest does with it.
The Hugo Award Showcase, ed. Mary Robinette Kowal (Prime Books)
Speaking of the Hugos, if you never got around to reading 2009's short-fiction winners, here's your chance. Edited by Campbell Award-winner Mary Robinette Kowal, this omnibus volume collects both winners and nominees, including work from John Kessel, Nancy Kress, Michael Swanwick, and others. Plus, this anthology is the perfect pick if you want something scifi, but the heat's got you feeling too enervated to commit to a whole novel.
Blonde Bombshell, Tom Holt (Orbit)
Lucy Pavlov has been sent to blow up Earth, but she's not a saboteur or a terrorist. She's a super-smart bomb dispatched by aliens annoyed with that dreadful racket we call music. Of course, she doesn't remember that little detail, but with a second bomb barreling toward the planet, one can only hope she puts it together quickly. This madcap novel is clearly pitched toward Hitchhiker's Guide fans, and it should make an enjoyable early-summer read.
Stories: All New Tales, ed. Neil Gaiman and Al Sarrantonio (William Morrow)
This collection of 27 short speculative fiction pieces features work by a number of big names, all selected by Neil Gaiman and Al Sarrantonio. Kurt Anderson tells of a geologist who meets an extraterrestrial explorer, while Joe Hill tracks a young man's path to evil. Other contributors include Peter Straub, Chuck Palahniuk, Joyce Carol Oates, and Diana Wynne Jones. So much variety likely makes for a mixed bag, but Gaiman's involvement is, as always, promising.
Who Fears Death, Nnedi Okorafor (DAW Hardcover)
Award-winner Nnedi Okorafor's first novel for adults blends speculative genres to tackle big themes like gender, race, and narrative itself. Onyesonwu is a sorceress living in a post-apocalyptic Sahara. Descended from an oppressed people, a child of rape, her name ominously translates to "Who fears death?" Despite the far-future setting, the novel's subject matter is horribly relevant in the here and now-rape as a weapon of war, racial hatred and genocide. But it also looks to be an epic, sweeping piece of storytelling.
The Passage, Justin Cronin (Ballantine Books)
A government experiment goes horribly awry and results in a gruesome plague of bloodsuckers. Survivors are hunkered down in the Colony, a fortress armed with fluorescent lights. But they're just waiting for the inevitable, until they discover an ageless-but unturned-girl living outside. The conceit is fairly standard. But author Justin Cronin brings two credentials even the most Twilight-fatigued can appreciate. With a PEN/Hemingway Award under his belt, his writing chops are bona fide, and his vampires are the classic, nasty, rip-out-your-jugular version. Plus, Ballantine is betting big on The Passage as their next blockbuster, complete with huge PR campaign, so expect to see this one everywhere all summer.
Kraken, China Miéville (Del Ray)
See Annalee's review for the full run-down, but here's the abbreviated version: China Miéville yanks the reader around London's enchanted underground, prompted by the disappearance of an apocalyptically important giant squid. It's beach reading that'll make you wary of what's lurking in the water.