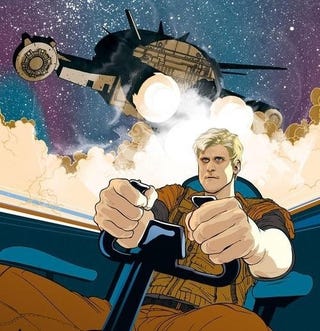 This Wednesday, the incomparable Patton Oswalt delivers his secret history of Hoban "Wash" Washburne in Serenity: Float Out. Mister "I am a leaf on the wind. Watch how I soar" has deserved a formal send-off for years — about time.
Oswalt is no stranger to comics (he previously penned JLA: Welcome to the Working Week for DC) or the Whedonverse (he guested on Dollhouse), so it's nice to see this one-shot from Dark Horse in Patton's loving mitts. Hey publishers, I'm pretty sure if you schedule more of these high-profile Firefly titles, folks'll buy the living heck out of them. Hint hint!
What other notable releases are on Wednesday's docket?
- Avengers Prime 1 (Marvel): Brian Michael Bendis and Alan Davis tackle Marvel's Big 3 - Thor, Iron Man, and Steve Rogers - in this miniseries. I would've preferred more of this from the revamped Avengers series, but que sera sera.
- iZombie 2 (DC/Vertigo): After the savvy $1 debut issue of Chris Roberson and Mike Allred's zombie detective series, I'm looking forward to the ongoing adventures of undead flatfoot Gwen Dylan.
- Brightest Day 3 (DC): Undead Firestorm is back, and he's going to turn your girlfriend into a pillar of salt.


- Franken-Castle 17 (Marvel): It's official - the Punisher of the 616 universe is a patchwork undead gunslinger. If this ain't your cup of tea, be happy that he isn't an angel anymore.