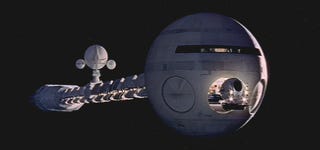 In this week's "Ask a Physicist" we tackle the question of whether you could spin yourself nauseous if the universe really were empty, and why so many scifi writers get artificial gravity wrong.
Welcome to the first of our new bimonthly "Ask a Physicist" column. All told, I've received over 150 questions from curious readers on everything from ghosts and the afterlife to atoms and black holes. I decided to bow out of spiritual questions and focus on ones about physics. Today's question comes from Professor Andrew Higgins who asks:
Is there an absolute reference frame for rotation? ... Imagine a space station in deep space (interstellar). Let's say it spins to generate artificial gravity, a la the space station in 2001. What is it spinning relative to? The stars? Which stars? What if they are in a dust cloud and can't see any stars?
I've gotten some grief in the past for turning an overly serious eye to critiquing the science of science fiction, but in your darkest hours, you know you've been guilty of far more egregious nit-picking. Questions like "Why do nearly all aliens look just like us (albeit with forehead makeup)?" or "How do I build a warp drive?" haunt your dreams. They're also harmless enough because after all, we don't really know those things might really work.