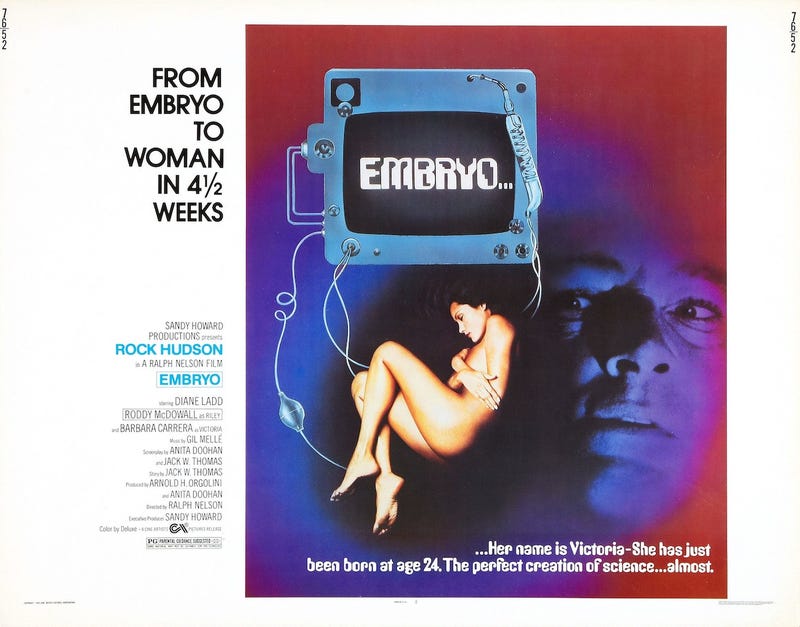 Here are 10 stories that belong to everybody, stories that still have plenty of juice in them — even if their earlier incarnations left something to be desired.
Embryo (1976)
Rock Hudson starred as a scientist who was able to accelerate the human gestational process from months to days, yielding the hotness that was Barbara Carrera. Of course, it all went bad, and she started killing pregnant women to steal their fetuses. But for a beat, there, it had the DNA of a genetic thriller.
A Bucket of Blood (1959)
A Roger Corman flick about a busboy who accidentally kills a neighbor's cat and covers it with sculptor's clay, only to find that the sculpture becomes a hit. He then turns to murder to keep up with demand for his work. Originally played as a comedy (and shittily remade in 1995 with Anthony Michael Hall), this could make for a robust horror film.
One Thousand and One Nights
There's more to the Arabian Nights beyond Aladdin and the Genie and Ali Baba and the Forty Thieves: Sex, murder, war, and more sex.
Frankenstein; or, the Modern Prometheus (1818)
We've talked before about the problems with adapting Mary Shelley's classic for a modern audience — but there's got to be a way to make it relevant. There has to be.