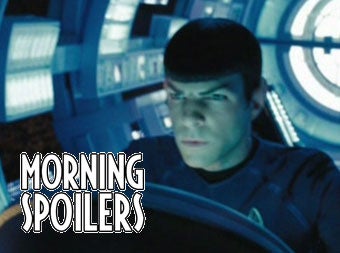 Captain America's latest enemy is the last person you'd expect. Check out Transformers 3's new Bumblebee, and a mysterious John Carter set pic. Plus Lost, Predators, Despicable Me, Green Hornet, Splice, True Blood, Chronicles Of Riddick, Chuck, Caprica and Supernatural.

Captain America: The First Avenger
Truman Capote himself, aka Toby Jones, will play evil Nazi scientist Arnim Zola, who's an expert on cloning and generally creating monsters. Zola also copies himself and inserts himself into an evil robot, so he survives the war. [THR]
John Carter Of Mars:
One more precious set pic, showing the location shooting at night. More at the link. [John Carter Movie]


Predators:
Here's a new image of Laurence Fishburne from this movie. [IGN]


Adrien Brody takes you inside the mind of his character, Royce:
Royce is a complicated guy. The bottom line I think is trying not to be complicated. Like, he's someone who's done everything in his power to shed an emotional attachment which is the antithesis of me. I'm a very emotional person. I try to have empathy and I think it's an interesting way of viewing the world, to come at it from an opposite perspective. But, I think deep down within him still lurks the human being. But he's a survivor and I think ultimately just like a scientist there has to be a level of detachment in order to put survival first. I think that makes him very well suited for the circumstances that he's found himself in.
Tons more at the link. [ShockTillYouDrop]
Green Hornet:
Michel Gondry says there's something he's always wanted to do, which nobody has ever done before and which can only be done in 3-D. So he's stoked that the studio is converting this film into 3-D. [Coming Soon]
Splice:
Five (!) new TV spots!

Super 8:
Now that you've seen the trailer for this J.J. Abrams/Steven Spielberg joint, hitting theaters in summer 2011, you're ready to know that it's about aliens and stuff. But it won't be shot using camcorders or any weird cameras, like Cloverfield. The cameras will be normal. And it pays homage to other classic movies besides Spielberg's. [Variety]