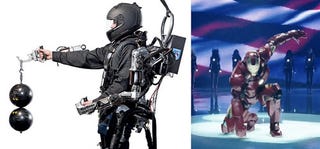 What sort of posthuman particulars did io9 cover this week? We reviewed Iron Man 2, put a price tag on Tony's armor, discussed creepy transformations and cyborg drill penises, and talked to IM2's suit guru at Stan Winston's studio.
Portraits In Posthumanity: Steve Mann
Canadian geek artist Steve Mann has augmented his vision with wearable computers for most of his life. He invented his "smart pants" in high school, perfected his body tech rig at MIT, and now has one eye that's a camera.