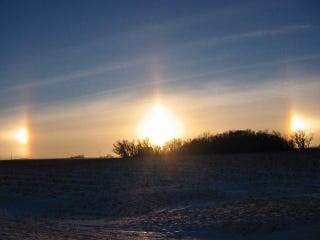 Sun dogs, or parhelia, are little back-up suns that appear on either side of the sun. They are the Pips to the sun's Gladys, the Lion and the Witch to the sun's Wardrobe, and they look way cooler than rainbows.
What is it that makes these parhelia possible? Only the most badass shape in the whole world: the hexagon. It's the geometric shape that rhymes with sex and means 'an evil spell.' It's balanced, edgy. It's got an angle on everything. It's what the pentagon would have been if the government hadn't been too cheap to add that last wall. There's nothing that the hexagon can't do. When it gets cold enough, hexagons fall from the sky. Literally.
When water freezes it forms hexagonal crystals. Sometimes the crystals are long, pencil-shaped objects, but much of the time they are flat disks. When they fall, the flat side turns parallel to the earth, due to Io9's old friend, the Bernoulli Effect. When the disk tilts so that an edge pushes out, the air around it rushes past faster. This creates a low pressure zone and pulls the crystal's edges out harder, until it is flat-side-down.