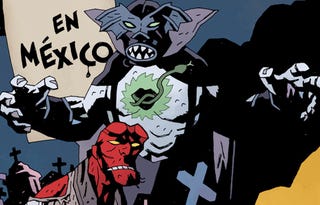 What do you get when you dump Hellboy in 1950s Mexico, team him up with three vampire-fighting luchadores, and douse this gang in tequila? You get Hellboy in Mexico (Or, a Drunken Blur), a comic ready-made for Cinco de Mayo.
In this one-shot by Mike Mignola (story) and Richard Corben (pencils), Hellboy travels to Mexico to battle unfathomable evil with the help of three taciturn Mexican wrestlers. This story was referenced in The Hellboy Companion and gets a full tale in this standalone. I love it when Mignola places Hellboy - the perpetually befuddled everyman - in supernatural hotspots around the globe. Remember that story in which he fought all those Japanese heads? But I digress - this is MY PICK OF THE WEEK, hands down.
Other titles of note include...
- I Zombie 1 (DC/Vertigo): A $1 zombie-detective tale with Mike Allred art is pretty hard to beat. For those of you missing Dead Girl from X-Statix, this is in your wheelhouse.
- Buffy The Vampire Slayer 35 (Dark Horse): Twilight has been revealed, and Buffy's gang are knee-deep in demons. If you have any questions for scribe Brad Meltzer, you can ask him at tomorrow's Twitter Q&A.