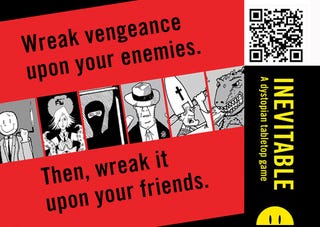 Would you want to live in a world where human civilization was destroyed, then rebuilt by a computer that only had pop culture as a reference? Probably not. Would you want to play a board game there? Hell yes.
Inevitable is a board game many years in the making. It's the brainchild of Jeremy P. Bushnell and Jonathan A. Leistiko, and will be released later this year by Dystopian Holdings. The game is quite a genre combo platter – it has role-playing elements, cooperative elements, aspects of trading games (no sheep or bricks, though), and the core is your basic "roll the dice and move around the track" style of board game. It's sort of like that old Milton Bradley chestnut "The Game of Life," but the other players are trying to kill you and there's an insane supercomputer vying with you for votes in a major election.
That all sounds like fun, but why exactly is there a computer and an election and…zombies? Inevitable takes place in some distant (but maybe not that distant) future. At some point, we made an amazing supercomputer and loaded it with a huge amount of information about humanity, plus the ability to create human clones. A civilization back-up hard drive, essentially. And of course, we managed to blow ourselves up or wipe ourselves out with engineered plagues or catastrophic climate change or whatever. In between, however, the people in charge of running the computer got bored and used it to watch reality TV, Internet porn and cheesy B-movies. Thus, when it came time for the computer to reboot human culture, its version of reality ended up somewhat skewed.
That kind of thematic background hits a lot of excellent sci-fi notes. You might detect traces of Clockwork Orange, The Watchmen (the happyface logo makes that pretty overt), 1984 and any other science-fiction that takes a cynical, sarcastic look at society. Plus, with the omniscient computer running a domed city, there's a major tip of the hat to legendary RPG Paranoia. Inevitable even shares thematic ground (albeit unintentionally) with indie RPG MSGtm. There's dark humor aplenty, emphasis on dark. As in, creator Jeremy Bushnell's ideas on finding the hilarity in atrocity: