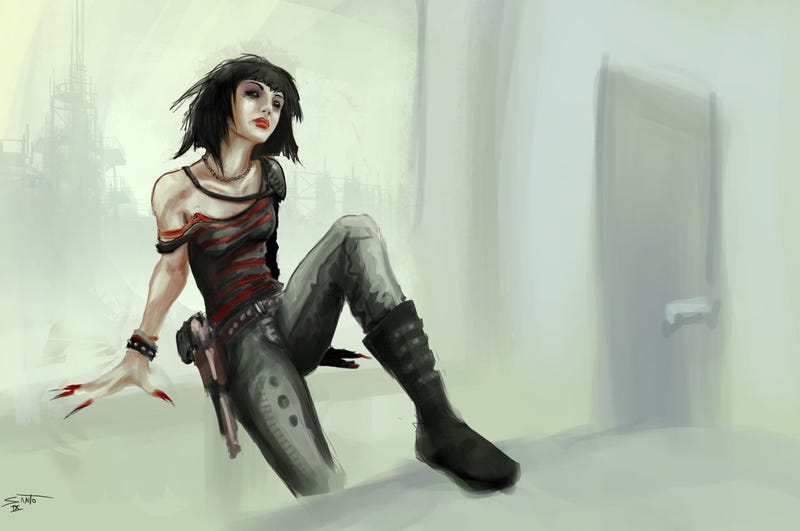 Our post-human replacements don't care if we find them sexually attractive, because we're a throwback as far as they're concerned. But that doesn't change the fact that mutants, cyborgs and other post-humans are hot as hell. Here are the sexiest.
Thanks to Samantha Bishop Simmons, Michael Falkner, Al Clay, Steven Michael Alberti Williams, Bonnie Burton, Will Sowards, Amanda Rae Wood, Ned Abbott, Johnny Splendor, Michael J. Welch, Michael Goldfarb, Susan Price, Garrett Keirns, Alston D'Silva, Kristoffer Åberg, Laura Johnson, Liz Stumann, Clinton Wade Steeds, Emma Lou Grey, Falk Diestel, Charles Burgess, Cody Glenn, Winter Mute, Catita D., Bill Taylor, Rachel Yates, Diana Trout-Kreider, David Boyle, Teresa Harris, Chris Sanchez and Rebecca Caruthers for suggesting some examples over on io9's Facebook page.
Here you see Molly Millions from Neuromancer by William Gibson. The Steppin' Razor: sexy, cybernetic and cynical. Fan art by Deadinsane on Deviantart.
Wolverine. He's the best there is at what he does. He's also full of animal passion. And he's got a healing factor.

Seven Of Nine from Star Trek: Voyager. Her detached, mechanistic attitude suggested that she was above such things as human sexual deviance, but her shiny silver jumpsuit, leaving absolutely nothing to the imagination, said "Rrowr." Actually, the one Borg implant over her eye is what makes her sexy. There, I said it. Cheesecake fan art by Transfuse on Deviantart.
Darth Vader. No, seriously. He's sexy as hell, with the shiny black outfit, the deep voice, the mesmerizing red lightsaber... I mean, he'd probably be terrible in bed. But better than Anakin would have been.
Leela from Futurama. There's a reason why there's so much Futurama porn out there, and a big part of it is our favorite one-eyed, purple-haired captain. That one eye is the window into a huge, beautiful soul.