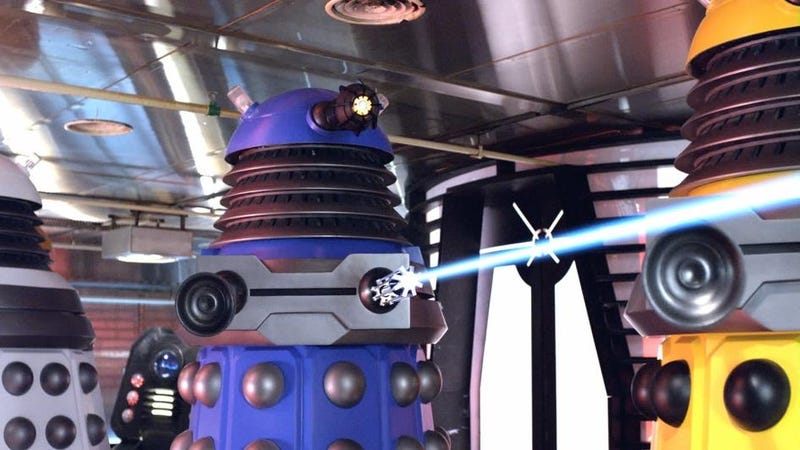 This year's big Dalek episode of Doctor Who was a fun, colorful romp with enough silliness, and crazy enough action, to make almost anyone happy for 42 minutes. But it did make us wonder: Will the Daleks ever rock again?
Oh, and there are MEGA spoilers for "Victory Of The Daleks," and very minor spoilers for the two episodes that follow.
In a way, "Victory Of The Daleks" was the same Dalek story we've been getting for years, except for the ending. Once again, the Doctor discovers that the Daleks weren't destroyed totally in the Time War, as he thought. Rather, a few of them survived, and they're making plans for a sneaky comeback using genetic engineering or their creator Davros, or zoot suits, or whatever. Every one of those previous stories pretty much ended with the Doctor thwarting the Daleks' comeback once and for all.
This time around, the Daleks' wacky scheme actually succeeds, and the story hints that the mutant blobs of hate are back as a force to be reckoned with. So "Victory Of The Daleks" is really aimed at being a reboot for the Doctor's oldest and nastiest foes, and only time will tell how well it succeeds.
Maybe I'm just being optimistic because the Steven Moffat-penned two-parter which followed "Victory Of The Daleks" was so immaculate that it restored my faith in the universe — but "Victory Of The Daleks" did at least leave me intrigued about where the Daleks are going next. Which is something that hasn't been the case in, oh, years.
Not that this was an all-time classic episode, by any means — it was mostly pretty silly fluff. But it did a few things right. For one thing, it reminded us that the Daleks' greatest strength has always been their cunning. The first half of the episode very deliberately recalled the 1966 classic "Power Of The Daleks," in which a group of Daleks are crashed on the planet Vulcan without enough power to get away — so they trick the human colonists on the planet into thinking the Daleks are their humble servants. The Daleks are always more fascinating when they're manipulating people and concealing their true malevolence.
And plunking the Daleks down in the middle of World War II is a touch of genius, since they're meant to be Nazis. (Creator Terry Nation was pretty up front about this, and put a Nurnberg Rally pastiche into "The Daleks Masterplan" and goose-stepping into "Genesis Of The Daleks.") The Daleks' whole deal is that they're space racists, who believe they're the superior life form of the universe. So having them volunteer as Winston Churchill's new secret weapon during the London Blitz is a stroke of bizarre genius. (Shame we didn't get to see any actual Nazis in the episode.)