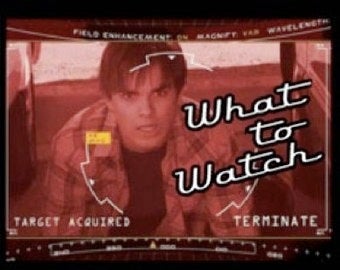 There's no new Lost this week, but luckily there are new episodes of V, Flashforward, Chuck, Doctor Who (Nazis vs. Daleks?!?), and more: the season finales of Ugly Americans and Clone Wars, and Tony Stark making the talk show circuit.

MONDAY 4/26/10
Chuck is back! In "Chuck Versus the Honeymooners" (8 PM, ABC), Chuck and Sarah meet some Spanish agents, and Casey and Morgan search for a missing couple.
At 9 PM on PBS, there's Frontline: The Vaccine War - public health experts discuss the public perceptions of vaccines and their safety to patients.
From 4 PM-12:00 AM, a Star Trek: The Next Generation marathon runs on Syfy.
TUESDAY 4/27/10
Lost takes a week off! Gah! Apropos of nothing, I have $20 riding on the notion that Juliet is the ex-Mrs. Jack Shepherd.
On Survivors (9 PM, BBCA) a new strain of the virus makes the Lab hurry up their search for a vaccine, and Whittaker faces off against Landry. Can they find a cure before this already-cancelled show runs out of episodes?
On V ("Heretic's Fork," 10 PM, ABC) Erica and the gang realize that the Vs know who the Fifth Column members are, Ryan opens up to a scared Val, and Chad puts himself in the Vs' loving hands to get some medical treatment.
There's a new Ancient Aliens, "The Visitors," on at 8 PM on History, and a new National Geographic Explorer, "Fatal Insomnia," at 10 PM on NGC.
Robocop is on G4 at 9 PM. Barton Fink is also on The Fox Movie Channel at midnight, as is the amazing Universal Soldier: The Return on FX. (Watch the five most horrendous moments from the Universal Soldier sequel here.)