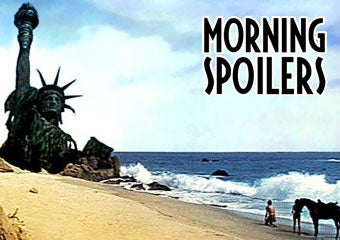 Is Black Widow getting a spin-off movie? Is Vanessa Hudgens joining Spider-Man? Discover Captain America's supporting characters! There's a The Host casting call and an Inception pic, plus Cameron talks Battle Angel. Plus Fanastic Voyage, Transformers, Ghost Rider and Lost.

Inception:
Here's another confusing pic from Christopher Nolan's new mindbender of a film. What are all these people doing on cots? Having their dreams probed? There's also a weird viral video of Christopher Nolan interviewing dream researchers, and speculating about what could happen if you could intervene in someone else's dreams. [Slashfilm]



Battle Angel:
James Cameron and producer Jon Landau give a few more hints about how they'd approach this manga adaptation. Says Cameron, "The main character is this little girl that everybody kind of ignores. She's got such a heroic heart on the inside." And Landau adds:
Battle Angel, I think, is a science fiction movie that begs the question 'What does it mean to be human?' It takes place in a future world, a world that has cyborgs, but are you human if you have a mind, if you have a heart, if you have a soul? It's a journey of a young girl who tries to discover herself and what she learns upon that journey.
And Cameron hints there could be more metal walkers in this film, if it happens. [Sci Fi Wire]
Iron Man 2:
There was a press conference about this film the other day, and it's worth reading the whole transcript. Apparently there were two versions of the opening scene shot, and they went with a version where you don't really see Tony Stark until he pops up on stage. And the version they didn't use included Gwyneth Paltrow.
Mickey Rourke's Whiplash is like Viggo Mortensen's character in Eastern Promises, plus Marv from Sin City and Randy "The Ram" Robinson from The Wrestler. And Rourke talks about how he replaced the bird that played Whiplash's parrot, Elvis, with his own pet parrot halfway through the movie. When Tony and Pepper finally kiss in this movie, it's a huge moment. Also, Jon Favreau's character, Happy Hogan, is in the movie a lot, and he gets his ass handed to him in the boxing ring by Black Widow.
Oh, and a Black Widow spin-off is definitely possible.
Screenwriter Justin Theroux talks about how the movie basically has two tracks — Whiplash and Justin Hammer (Sam Rockwell) get together pretty early, and meanwhile, Tony, Pepper and Black Widow have their own storyline. And it sounds like the movie was pretty heavily improv, just like the first one, and the script was being rewritten on the fly in response to the actors' feedback. Tons more at the link. [Collider]
Also, Theroux confirms that there is an "Easter egg" scene after the credits, featuring some kind of link to the upcoming Avengers team-up movie. But it won't be included in preview screenings, just added to the prints on opening day. [Collider]
The legendary DJ AM has a cameo in this movie, DJing at Tony Stark's birthday, and he filmed it just before his death. Here's the first picture of that scene. Much, much bigger version at the link. [L.A. Times]

Transformers 3:
There was a report that this sequel would be filming at Andersen Air Force Base in Guam, but it's already been shot down. [TFW2005]
Shia LaBeouf doesn't sound too thrilled to be coming back as Sam Witwicky:
My mind battles with me all the time. My mind hates the fact that I'm going back to Transformers 3, but the kid in me loves it. The actor in me, who is looking to challenge himself, isn't going to get it on in Transformers and I know that. But that doesn't mean that I'm any less dedicated to that movie being perfect. I wasn't happy with the second movie and unless the third one is better than both, then we failed.
Insert your own joke about how we feel his pain. [TFW2005]
Spider-Man: Begin Again:
There's a rumor going around that Vanessa Hudgens is in line to play Spider-Woman in this new reboot. It sounds totally true. Why would you doubt this rumor? It sounds totally true. I have no doubt whatsoever. [MTV]
Captain America: The First Avenger:
Marvel's Kevin Feige says that the Howling Commandos, Nick Fury's elite group of slightly campy fighters, will appear in this film. "The characters will be there as part of the larger Marvel Universe." And they'll definitely include Gabe Jones, the African American soldier known for carrying a trumpet into battle. It's not clear if the international super-team, the Invaders, will still be in the movie, but Feige says there'll be some international component to the supporting cast of World War II fighters. [CHUD]
Ghost Rider 2:
Nic Cage says there's a script, but he hasn't seen it yet, and it would be pretty cool to film it this year. And he thinks it'll feature Johnny visiting different countries, on a sort of flaming-skull world tour. [IGN]
And it sounds as though Columbia may have to do this sequel without Cage, because they lose the rights if the movie's not in production by Nov. 14. And Cage's schedule may not be free by then. [NY Mag]
Avatar 2:
There's a rumor the sequel will feature the Na'vi fighting evil alien bugs from space. But it's just a rumor, and should be taken with massive doses of salt. [Cinemablend]
Nightmare On Elm Street:
Here's another new clip. [ShockTillYouDrop]

The Host:
We weren't sure if Andrew Niccol's next film was going to be this Stephenie Meyer book adaptation, or the recently announced i'm.mortal. But the Acting Auditions blog appears to have gotten hold of a casting notice for The Host, which includes the titles of the second and third books/movies in the trilogy: