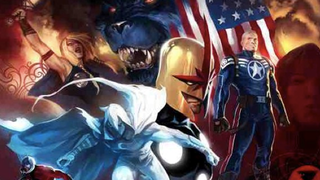 io9 recently chatted with the incomparable Ed Brubaker about his upcoming run on Secret Avengers, the status of the Sleeper movie, and yes, the yahoos who got way too riled up about a Captain America comic.
For Secret Avengers, you have a pretty diverse crew lined up (Nova, Beast, War Machine, Steve Rogers, Valkyrie, etc.). These are some fairly stand-up supes; they're not like the Thunderbolts who have to be kept out of the public eye. What's so secret about them?
The one element that ties all of these characters together is that they all have a certain military background, even with Valkyrie with Asgard. Beast has a history with the Avengers, and you can't have a book like this without someone hitting up the science department. Of course, he's going to be out in the field with these guys.
The real crux of what I'm trying to do is a team book that feels somehow different from how we've seen team books up to this point. This is very much about taking that pulpy espionage flavor, mixing it with a Mission Impossible vibe, and doing it with superheroes. It's a new starting point. I'm not walking on to the X-Men or the Authority.
The first arc is very much about defining who their secret enemy is. I can't really talk too much about, a lot of it is about the history of these guys. This is my chance to do something like SPECTRE or COBRA without going too corny. It's very much something that ties in with real world history, but bringing in that Doc Savage, H.P. Lovecraft tradition that superheroes came out of. It's very much about stuff we haven't seen in Marvel.
In Captain America, the main antagonists are the Watchdogs and an insane, chipper 1950s Cap. What was your inspiration for this dementedly wholesome evil Captain America?
The first comic I ever bought with my own money was Captain America 156, which was the Captain America from the 1950s and the real Cap fighting on the cover. That was my first experience to the idea of another Cap – the hard-core conservative, HUAC-loving Cap. I always thought that this character was really tragic. He remembers the Eisenhower era; he's a man out of the time. I brought him back during the "Death of Captain America" story.
I always intended to hook him up with the Watchdogs. The Watchdogs – when they were created by Mark Gruenwald way back when – were reflective of those extreme right-wing, Middle America militia movements. I wanted to bring them back to reflect the world we live in today since Obama was elected. He's the Captain America for that slightly crazed, highly paranoid side of reality.
Speaking of the Watchdogs, what's been the readers' response to the media hubbub concerning the signs in Captain America 602?