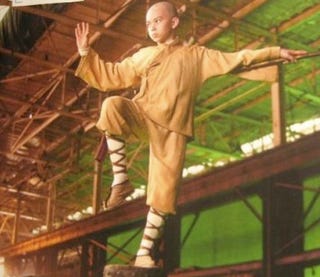 The makers of The Last Airbender and Green Hornet are scrambling to convert their films to into inferior post-production 3-D. When will this 3-D monster stop?
Two films that were never intended to be 3-D productions — or else they would have shot with 3D cameras — are frantically trying to stick the 3-D tag on the end of their titles. Variety confirmed that M. Night Shyamalan's The Last Airbender would be going 3-D. Meanwhile, the movie's producer Frank Marshall has been twittering about the filmmakers' 3-D experiments this entire time.
Looking at 3-D test… Looking at 3-D for various projects, I think it's here to stay, but not right for all movies… So far, feels like it's better to shoot in 3-D rather than convert….
The Green Hornet, which is also moving its release date to January 14th, 2011 — in order to avoid Tron Legacy's shadow no doubt — also announced that it, too, would be going 3-D. This is hot on the heels of the leak that Sony just now realized that the actor they cast years ago, Seth Rogen, looks nothing like The Green Hornet.