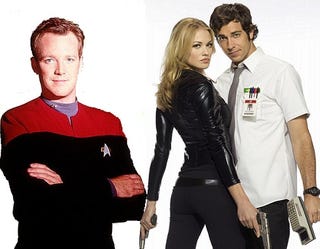 Robert Duncan McNeill played Tom Paris, the snarky pilot, on Star Trek: Voyager, and now he's a director/producer on NBC's Chuck. He talked to us about comedy, Klingon romance, Captain Proton vs. Captain Awesome, and making out with Sarah Silverman.
Oh, and there are minor spoilers for Monday's Chuck below.
McNeill has been an executive producer on Chuck since the show launched, and he's directed a whopping dozen episodes — including this Monday's "Chuck Vs. The Honeymooners." This is an especially major episode, since it's the start of a six-episode mini-season. The network originally only ordered 13 episodes of Chuck's third season, which would have ended with the most recent "Chuck Vs. The Other Guy," wrapping up the Shaw storyline. But then the network decided to order an additional six episodes, which the show's creators decided to make their own story arc. (So Monday's episode is almost like another season premiere.)
Here are the highlights from our phone interview with McNeill this morning.
Can you tell us a bit more about Monday's episode? Chuck and Sarah have finally gotten together, right?
[They're] really, finally together. We were all very nervous about getting your two leads together, and often that can spell death on a show. And we were worried about, "How is this going to work? Is this going to take out all the tension out of the fans and the audience wanting these two to get together?"
But actually, what we discovered when we took a chance was, it helped the storytelling. It made things so much fun, for them to be able to enjoy each other and not have to keep so many secrets. And it's been so long that these two were going around and around with, "Can we be together? Can we not be together?" I think we had played that out over the last three years.
It was a lot of fun to be able to see Chuck and Sarah be [together at last.] This episode is all about, "Oh my god, we're finally together. How amazing is this?" It's their reactions to being together, and how that can help [them, as well as] create new challenges to solving the missions they have to go on. So yeah, it was a lot of fun.
[In this episode], they're on a train, and of course, no matter where Chuck and Sarah go, spies and bad guys seem to follow. The fun part about the spy genre is, we get to play with all sorts of styles and settings, and kinds of bad guys and to go in this kind of Orient Express train. Our art department did a great job in dressing this train, and we had a great guest cast, and most of all seeing Chuck and Sarah together and really having fun together — and allowing Sarah the freedom to relax and make jokes [is great]. Yvonne Strahovski was really quite funny. There's a lot of big laughs from her performance and her character, where before she was so protective of herself in her emotions, and keeping her distance from Chuck. Now she has a new freedom.
You did a lot of directing on Voyager, and there was a lot of comedy there too. How is the comedy different on Chuck?
The comedy in Star Trek is always very subtle, if it's there at all. You know, Paramount would always tell us that on Star Trek, they wanted to protect their franchise during those years, by keeping it very regal. There was almost this royalty quality felt, like Patrick Stewart or Scott Bakula or Kate Mulgrew. There was this regal aspect that they thought was very important to the show and [that meant] not making fun of it.
Particulary on Voyager, we tried very hard to get light comedy into the performances, even if it wasn't scripted, to find the humor in the characters. We had a lot of funny actors, and so yeah, it was important to try and bring the comedy. And one thing [that was similar to Chuck was that] one week you could do a murder mystery on Star Trek, and the next week you could do a light comedy, and the next week you could do a romance and action adventure. And that's one thing we're also able to do on Chuck. One week, you can have a real heavy romance Chuck episode, and the next week it can be some kind of murdery mystery. It's not like doing a procedural.
So who would win in a fight: Captain Awesome or Captain Proton?
[Laughs] Well, you know, Captain Awesome. He's a real peace-loving guy. He's a specimen of a man, but he's a peace-loving guy. Captain Awesome would probably talk his way out of any fight, even though he could certainly handle himself. Captain Proton — I had a malfunction on the jetpack that I flew through space on, and a burned bottom, so I think his equipment would fail.
You had a burned bottom?
Let's just say... I ended up with some blisters on my bottom. So I think Captain Awesome would probably prevail in a fight.
You mentioned the excitement of Chuck and Sarah getting together at last. It feels like the Tom/B'Elanna romance was the only time Star Trek ever really had an ongoing, grown-up romantic relationship unfolding on screen. Did the studio fight against that idea?
Honestly, my opinion back in the early days was, "Why are we doing this? Why are we trapping both of these characters into this relationship that will prevent both these characters from exploring different opportunities and different stories and different planets that we visit?" In the beginning, I didn't think it was a good idea, kind of like a lot of people with Chuck and Sarah, but in the end Roxann [Dawson] and I really appreciated the opportunity to explore a real relationship. It wasn't like I had super-strong opinions. I was concerned, like people may be with Chuck and Sarah. But the way that Tom and B'Elanna ended up getting together really expanded that world of Voyager, and I think getting Chuck and Sarah together is better for the show. And I think people are really going to be happy to see Chuck's world expand in a way that only a real relationships and ongoing relationships can do.
Another interesting parallel that occurred to me was between the Tom/Harry bromance on Voyager and the Chuck/Morgan bromance. Do you think these are similar in some ways?
Zach Levi has a huge heart. Zach really cares deeply about the other actors on the show, and he takes his position as the title character on the show really seriously, as far as wanting people to be happy and fulfilled. And I think that translates, in the scenes you see with Morgan and any of the actors. Zach [and Joshua Gomez] bring a lot of their offscreen personalities into the show.
Garrett [Wang] and I worked the first scene of the show together, and we immediately bonded. He was a young actor, and in a few ways I was a few years older. I was taking Garrett under my wing in the same way that Tom was taking Harry under his wing. A lot of the off-screen relationship translates [onto the screen].
And it feels like nerd bromance is being represented a lot more than it used to be. Nerds aren't solitary creatures any more, they have friendships.
It's great characters that Chris [Fedak] and Josh [Schwartz] created in this show. Incredible casting, smart characters. It's really been my favorite work experience. And the hybrid nature of this show, in terms of comedy and action and romance — you get to do everything as a director. Within every work day, we get to blow something up and have a wonderful romantic scene, and then go make fart jokes. What could be better than doing all that in one day?
Do you still have the action figure of Tom Paris as a super-evolved lizard who gets Janeway pregnant?
I think I must have that somewhere. I have a bunch of boxes. Paramount used to send us a box of whatever they licensed out, the toys and things. I know I've got the big Barbie-sized Tom Paris, I've got a bunch of those.

What was it like, making out with Sarah Silverman?