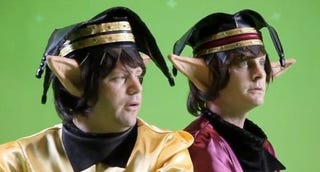 If The Witches of Oz is as wonderfully bananas as the trailer and clips, we're in. A grown-up Dorothy battles to keep Oz from invading the real world, joined by two Hobbits, Christopher Lloyd and a cat-fighting Lance Henriksen.
Here's the official synopsis:
The Witches of Oz follows the exploits of the grown Dorothy Gale, now a successful children's book author, as she moves from Kansas to present day New York City. Dorothy quickly learns that her popular books are based on repressed childhood memories, and that the wonders of Oz are very, very real. When the Wicked Witch of the West shows up in Times Square, Dorothy must find the inner courage to stop her.
The film was written and directed by Leigh Scott. Not familiar with his work? Sure you are — he's one of The Asylum's regulars, and he wrote and directed Transmorphers, the shadow Transformers film. We're not 100% sure when this film will be coming out — but what we do know is Ethan Embry, of Can't Hardly Wait fame, plays someone named Frick, Sean Astin (Samwise Gamgee) plays Frack, and Christopher Lloyd is the Wizard of Oz. Done and done.