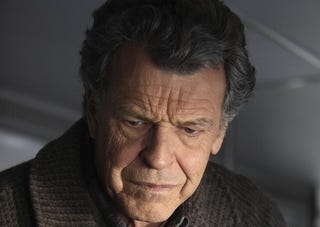 We forgot everything about last night's Fringe episode as soon as we were done watching it — almost as if Peter Weller had traveled back in time to before it aired. Except for this one wonderful scene. Spoilers ahead...
This was one of the most forgettable "weirdo of the week" Fringe episodes, for the most part, despite Weller's reliably fantastic performance. The concept of a time traveler who kills people just by arriving was neat, but the execution was a bit lackluster, and the Groundhog Hour thing was a bit wasted because the "deja vu" thing didn't go anywhere.
But when Walter Bishop meets his equal, and a parallel character who's also a mad scientist driven by grief, the episode suddenly comes to life:
So Walter, the most vocal atheist and occasional taunter of Catholic priests, secretly harbors a belief in God due to his guilt over his meddling? That's pretty fascinating. And I love his description of his own journey through madness.