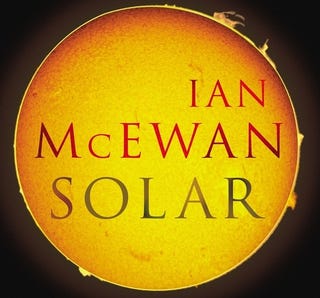 If Ian McEwan's Solar isn't on the Hugo ballot next year, it'll be a miscarriage of justice. The two-time Booker Prize winner does something few literary darlings have done before: treat science with respect, as central to the story. Spoilers...
I'm not a huge Ian McEwan fan in general — I read a few of his novels several years ago, and wound up with the feeling that I'd read the same novel a few times in a row. It's also true that he's often better at the vignette than the all-encompassing novel. So I was pleasantly surprised by quite how much I loved Solar, and quite how much a revelation it felt like. This is the literary novel of science that I've been wanting to read for ages.
To be fair, Solar isn't your traditional science fiction novel. There is a huge scientific breakthrough at the center of the book — and if you take away that breakthrough, the book falls apart completely. But at the same time, the book's plot is much more personal, and the central scientific discovery interweaves with the personal storylines in various ways. But it's not the story of how that scientific discovery changes the world, or the dilemmas it brings up, per se. The science is central and speculative, and it's on almost every page, but it's part of the world the main character inhabits.
But nor is Solar your standard "literary author experiments with science fiction" novel either. Oftentimes, when lit authors venture into the world of SF, they treat it as a new collection of literary tropes, to be played with in some vaguely postmodern fashion. Think of Toby Litt's Journey Into Space, or Jeanette Winterson's Stone Gods. Science fiction provides a set of archetypes, like android lovers or people fleeing the ruins of Earth in a spaceship. Lit authors — just like many SF authors, for that matter — revisit the same story devices as past authors, with the intention of bringing something new to them. But McEwan, refreshingly, isn't interested in the conventions of SF.