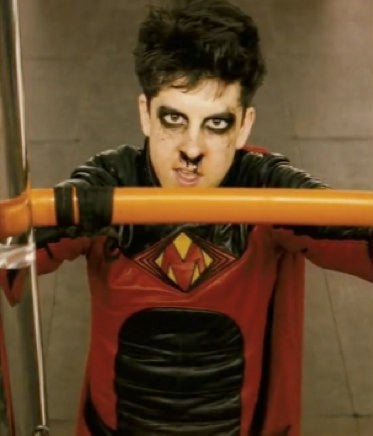 We sat down with Kick-Ass' Red Mist, Christopher Mintz-Plasse, and talked blood masks, murder, and what's ahead in the sequel. Plus check out our exclusive behind-the-scenes Red Mist picture and a look at his limited-edition Kick-Ass shoes. Spoilers ahead...
Red Mist's alter ego is Chris D'Amico, son of the notoriously dangerous and violent gangster Frank D'Amico, played by Mark Strong. So clearly, his relationship with main character Kick-Ass is a bit... strained. In order to delve into the Red Mist character, we had to talk about a lot of spoilers for the film, but I promise you we've left out the big reveals. In any case, Red Mist walks a dangerous line between wanting superhero acceptance from his new friend Kick-Ass and needing to impress his hard-to-please father by turning in all the heroes who are destroying his business.
Kick-Ass is insanely bloody and a lot of fun, did you read the comic while you were in production, or before? Because I know they were still writing it while you were filming.
They wrote the script and the comics, pretty much at the same time. Which has never been done for a comic book movie. So when I got the script sent to me, my dad had issue one of Kick-Ass already. So I read the first issue and it was exactly like you said, bloody, hilarious and violent. That's what drew me to it immediately. I love those kind of movies personally. I would love to be in one.
Which ending did you like more? [Edit Note: the comic wasn't finished by the time they filmed the finale of the film so two endings are quite different, even though they both have the same conclusion... more or less]
It's the same conclusion for my character, but I'm way more of a bad guy in the comic, from what I remember. In both, I betray Kick-Ass, but in the movie I only want to turn in Big Daddy, I don't want to turn in Kick-Ass. Which I thought was very smartly written.
Why was it important to you, that in the movie he doesn't want to turn in Kick-Ass, unlike in the comic?
I think it was important because in the comic, it's short. The movie is two hours — they really build a relationship in the film. When Kick-Ass and I hang out, we relate to comics, we become friends. I respect Kick-Ass for what he did, he stepped up and became a superhero. And that's what influenced me to be a superhero, and I think in real life, we would hit it off and be friends.
How many buckets of blood did you guys go through on camera or was it all inserted in later?
For me? None, because I didn't participate in any action or anything. I mean I got a few blood drops put on me for the fight scene that Aaron and I have in the end. But I really didn't participate in a lot of that.
Do you think you have this stigma attached to you now that you're this giant ass-kicker in the film, but in reality you don't fight that much? You'll have to really bring it in the sequel.
Everyone keeps asking me, "Dude, I can't wait to see you in this action movie," and I keep saying, "You're going to be a little let down."
So now you have to kill someone in the sequel. Have you asked [the comic creator] Mark Millar to make you more of a bad-ass in the second comic series, or maybe even the second movie?
He [Mark Millar] already knows completely. I don't even have to tell him, he knows he's going to make the character really dark. Knock on wood — I want this film to do really well, so if there is a sequel, my character will be really dark. Hopefully I get to bulk up, force myself to go to the gym.
What, pull a Taylor Lautner [in New Moon]?
Oh god, no. He got grossly ripped for that movie.
Mark Millar mentioned that he wants your sidekick in the next comic to be called The Cunts?