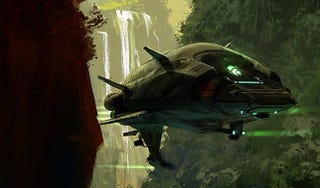 April's new science fiction books take you on a trip across a transformed Mars, and to the heart of a British battle against mutant Nazi orphans. Also, a couple of steampunk adventures jostle for a space in your to-be-read pile.
Ares Express, Ian McDonald (Pyr)
Ian McDonald's magical-realist sequel to Desolation Road isn't new - it just took 9 years to make its way across the pond. Sweetness Octave Glorious Honey-Bun Asiim Engineer 12th isn't pleased with her arranged marriage, so she leaves her home (on a super-sized fusion-powered locomotive) and strikes out across a terraformed Mars of the distant future. In short order, she gets herself mixed up with a smooth-talking religious con man, and suddenly Sweetness is tripping through time and parallel worlds, with the future of Mars at stake.

Bitter Seeds, Ian Tregillis (Tor)
It's the eve of World War II, and in this alternate history Britain isn't simply facing the German war machine. Mad scientist Dr. von Westarp has transformed a group of orphans into mutant ubermensch, armed with abilities like fire-starting and invisibility. And so the events of 1939 begin to play out, things like the Blitzkrieg made worse by the addition of superpowered Nazis. Casting about for some way to counter the impeding invasion, British secret agent Raybould Marsh recruits Britain's warlocks. But their approach to magic might leave the kingdom even worse off than the luftwaffe.
A Book of Tongues, Gemma Files
The postbellum Wild West has a reputation as a dusty, lawless wasteland, but Gemma Files takes the trope to the next level in her fantastical new horror novel, Book of Tongues. Pinkteron detective Ed Morrow, charged with investigating the spell-casting abilities of the outlaw Reverend Asher Rook and his lover Chess Pargeter, joins one of the West's most infamous gangs. But an already-precarious situation really hits the skids when bloodthirsty Aztec goddess Ixchel chooses Rook as her consort, setting the whole band on the primrose path to hell.
Up Jim River, Michael Flynn (Tor)
Following rumors of a powerful artifact, a woman disappears far up a mysterious river on a small, distant world. Her employer, the Kennel, gives her up for dead. But her daughter Mearana isn't convinced, and the young harper ropes Donovan, a scarred drunk, into helping her search. Hmm... a pushy woman, a drunk, and a hostile river. That sounds promisingly like The African Queen in space.
The Green Leopard Plague and Other Stories, Walter Jon Williams (Night Shade Books)
This collection rounds up nine of Williams' best stories, including Nebula winners "Daddy's World" and "The Green Leopard Plague." Williams explores the human mind and the effects of technology, often combining the subjects with pieces such as "Incarnation Day," which depicts a society where child-rearing is treated as a form of computer-programming.
Changeless, Gail Carriger (Orbit)