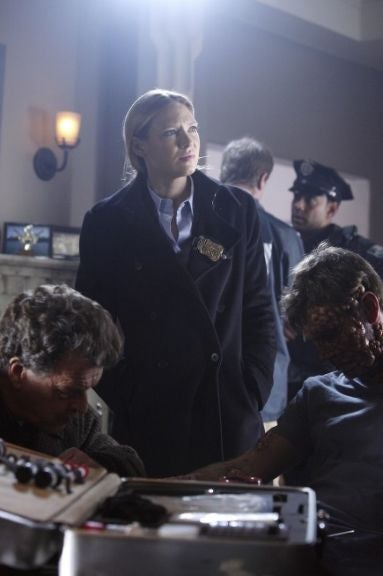 Last night's Fringe felt pretty run-of-the-mill after the previous week's incredible episode. Olivia dithered, Walter made taffy, and a creepy guy ran around giving people bubble-wrap face. Spoilers ahead...
The most interesting part of last night's Fringe was probably our journey into the center of Olivia Dunham's dysfunctional personality, and her broken relationships. Olivia has been acting weird around Peter since she realized he's actually a freak from another universe, but she promised not to tell him the truth. As she struggles with this decision, we see once again how much of a rootless loner she is, and how hard it is for her to connect with people. And then, finally, she reconnects with Peter — we guess — while deciding, once and for all, not to tell him the truth. (Except that Walter's already made the opposite decision.)
There was nothing wrong with any of this, except that Olivia Dunham turns out — once again — to be a person we're told about more than we see her. Anna Torv stands around, a slightly quizzical expression on her face, as people psychoanalyze her. Bowling Alley Guy spouts trite observations about her. Nina Sharp tells her what she's really thinking. Peter speculates about what's going on in her head. Even Walter has some pertinent observations about Olivia's state of mind. In some cases, this armchair psychoanalysis actually takes place in an armchair. Throughout it all, Olivia sits absolutely still — the chaste, the unexpressive she.
The Fringe Division can solve cases involving mutants, universe-jumping shape-shifting serial killers and guys with cancer hands. But the one mystery that their collective brainpower is unable to make a dent in is the mystery of just what's going on in the head of Olivia Dunham.
A side note: Really. What is it with British and Australian actors being on U.S. television and not being allowed to use their real accents? Some very fine actors seem to be dancing in chains because of the need to fake a Yank accent. Please make it stop. Why is it that television shows seem to think we'll accept people from other universes and visions of the future, but we won't be able to swallow the idea that Brits and Ozzies occasionally move to the U.S. and keep their accents?