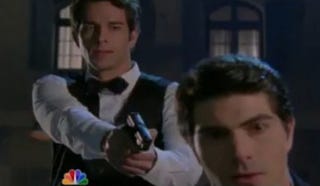 Chuck started out as a show about a hapless nerd who gets the sum total of spy knowledge uploaded into his brain, but it's grown into a superspy action-drama-romance. We saw tomorrow's pivotal episode and talked to the creative team.
There are minor spoilers in this post, but we won't give away everything that happens in tomorrow night's "Chuck Vs. The Other Guy."
If you've been keeping track of Chuck, you'll know that NBC originally only ordered 13 episodes of the show's third season - which would have made tomorrow night's episode the season finale. Then the network came back at the last moment, and added an extra six episodes to the season. Instead of padding out the season they'd already mapped out, producers Josh Schwartz and Chris Fedak decided to create a whole new six-episode mini-season, which starts April 26.
Tomorrow night's episode feels like a season finale, and shakes things up enough that you can easily imagine waiting six months or more to find out what happens after it. Almost every main castmember gets a status change of some sort, and the major threads of the season so far are addressed. It picks up right where last Monday's episode left off - with Shaw having learned that Sarah killed his wife. When Shaw goes off the grid on a non-existent "mission" with Sarah, everyone suspects the worst, especially Chuck. But are they right? And why did the Ring really just show Shaw the video of Sarah killing his wife - just to get Shaw to turn on Sarah, or for some more insidious, complex purpose? Is the Ring Director's plan sheer elegance in its draconian complexity?