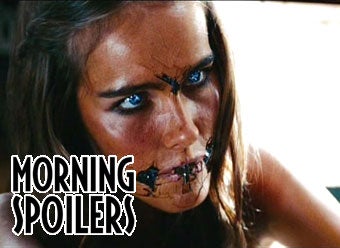 Paul W.S. Anderson explains what to expect from his Buck Rogers movie, and Kevin Feige talks Marvel movie crossovers. Transformers 3's next Decepticon, unmasked! Stargate's alien villain is a former Heroes star. Plus Doctor Who, Fringe, Sorcerer's Apprentice and Supernatural.
Buck Rogers:
Paul W.S. Anderson says "Maybe" when asked if Twiki will be in the new movie — which shocks me. I would assume that'd be an automatic "Bidi bidi bidi, Hell no." But maybe Anderson has a soft spot for the little penis-headed dancing robot with the voice of Mel Blanc.
Generally, though, Anderson says there'll be no lycra in this version, and even though he liked the 1979-1981 TV show, "it's not going to be that." Instead, he wants to honor the core of the character: "It's a relatable man of today who is flung into the far future." Iron Man writers Markum and Holloway "have come up with an amazing take" on Buck:
What Art and Matt do is they write very relatable characters, and I thought that was what was genius about 'Iron Man.' He was a man in a metal suit, but they made him relatable to everybody. I think that's very important with science-fiction concepts - you have to have relatable characters at the heart of them. And that is why I was very excited to work with these guys.
[MTV]
Thor:
Kenneth Branagh talks to the L.A. Times, mostly to dispel rumors that he's running intro trouble on this movie's set. He also explains that the movie is evenly split between Asgard and Earth, and what this means: