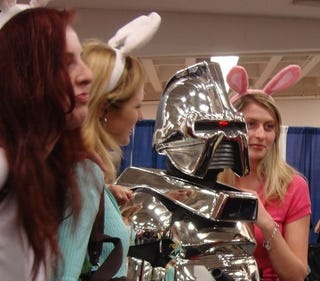 San Francisco gets its own little taste of Comic Con this weekend. Wondercon brings together comics superstars, film-makers and some legendary actors. This year: a special Tron event, Resident Evil's Milla Jovovich, Doctor Who, Max Brooks and Wendy and Lisa!
Friday:
Wendy and Lisa headline a movie/TV composers' panel, DC Comics unveils its upcoming mega-events, and the Resident Evil: Afterlife trailer premieres. But all you really care about is Tron Legacy's Bruce Boxleitner. Right?
1:30-2:30 Setting the Score: Composing for Film & Television for Sci-Fi/Fantasy:
Featuring Wendy Melvoin & Lisa Coleman (Heroes), Jim Dooley (Pushing Daisies) and Jeremy Zuckerman & Ben Wynn (Avatar: The Last Airbender). We interviewed Wendy and Lisa a while back, and we're eager to see them in person.