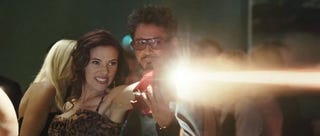 Spring is here, and that means one thing: the serious Oscar movies and post-apocalyptic trudge-fests of winter are over. Get ready for explosions, sexy mad science, and cyborg-on-cyborg violence. Here's our guide to the science fiction/fantasy movies of spring.
Note: According to the calendar, the first day of summer is June 21 (in the Northern Hemisphere) this year. According to Hollywood, summer begins in a few weeks. For the purposes of this article, we'll be using the calendar definition of summer, meaning that some "summer movies" are actually coming out in the spring.
So here are a dozen movies that can tide you over until summer:

Clash Of The Titans (April 2)
The classic mytho-porn adventure is back, starring Avatar's Sam Worthington. Which means lots and lots of Ray Harryhausen-inspired kaiju action. Just hearing the line "Release the Kraken!" in the trailer gave us a few goosebumps. Here's hoping Bubo the mechanical owl is in this version.

After.Life (April 9)
In limited release, this weird horror film features Christina Ricci as a woman who "dies" in a car accident, and then wakes up in a morgue where the sadistic funeral director Liam Neeson is experimenting on her and injecting her with lots of drugs. He claims she's really dead, and he's a go-between, preparing her for the afterlife. But is she really alive, and the subject of sick experiments? First-time director Agnieszka Wojtowicz-Vosloo aims to keep you guessing. But one thing's certain: Neeson and Ricci are enough to get us interested. (Watch the trailer here.)