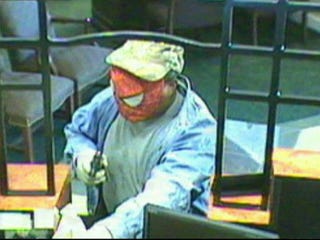 Yesterday, a weirdly polite criminal dressed in a Spider-Man mask and armed with a screwdriver robbed a video store near Sydney, Australia. This is just the latest in a long string of Spidey-masked crimes around the world. What gives?
No criminals ever put on Batman's cowl before going out on a crime spree — maybe because it doesn't cover their full faces, or maybe because they are cowardly and superstitious. We did news searches for all the major superheroes, plus things like "Klingon" and "Stormtrooper," and no dice. When evildoers want to seem like a threat or a menace, they don a Spidey mask. Could J. Jonah Jameson have been right all along?
Consider the evidence:
There's yesterday's crime in Australia, where the thief kept thanking his victims over and over again and wished them a good night., when he wasn't threatening them with his screwdriver. (I guess his web-shooters were empty.) He was wearing a "full-headed" Spider-Man mask.
And then just last week, three people burglarized a house in Bellaire, OH, and one of them was wearing a Spider-Man mask (the other two were apparently disguised by a devil mask and a blue bandana, respectively.) The cops found marijuana in their car.
In 2009, a man wearing a "Spider-Man ski mask" robbed Papa Murphy's pizza in Tacoma, WA, at gunpoint, then fled. Also last year, a Spider-Man-masked guy robbed Daphaney Miller in Eden, NC, taking her cigarette case which had $50 in it.
We've already covered the "Spider-Man Bandit" who terrorized Chattanooga, TN in 2008 — hitting at least ten motels, convenience stores and other easy targets over a month or so, before finally getting caught. Here are the grim details, including surveillance camera footage: