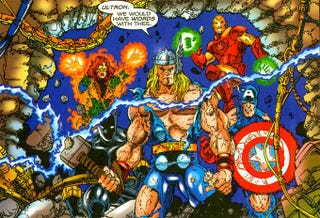 What makes you invest in a character? Is it when you understand their motivations, or glimpse their all-too-human foibles? When they have rich, multi-layered relationships? Sure, those things all help. But what really helps is the all-important "f*@% yeah" moment.
I cannot claim credit for discovering the importance of the "fuck yeah" moment. (Sorry, I got tired of reaching to the top of my keyboard for those number signs and @s.) This phenomenon was discovered by blogger, scholar and visionary Dave Campbell, in his much-missed and totally awesome DavesLongBox blog.) Campbell did a great round-up of "fuck yeah" moments from comics, and here's how he defined them:
The F*@% Yeah Files will spotlight those scenes in comic books that made me as a reader stop and say, "Fuck yeah!" That may not be literally what I was moved to say by a particular scene; I would be just as likely to say, "Oh, hell yeah" or "That's what I'm talking about" or "Kiss my grits!" You get the picture. The F*@% Yeah Files will celebrate the Airwolfness of a particular scene or panel that has moved me in some way.
(Campbell also developed adopted the Theory of Airwolf, in which one describes things as "Airwolf" instead of "awesome," which has now become standard practice across the Internet. Update: This was actually developed by Ernie Cline, not Dave Campbell. Sorry for the mix-up.)
Anyway, Campbell's examples of "fuck yeah" moments included not just fight scenes, but heroes actually being heroic and saving people, and moments of total awesomeness like Batman schooling Prometheus. He later expanded the concept to include "fuck yeah" moments from movies, like Kirk going "Khaaaaan!" and Sidney Poitier saying "They call me Mr. Tibbs" in The Heat Of The Night. (A line so Airwolf, as Campbell points out, that it became the title of a whole other movie. Campbell adds, "I'd love to see a Star Trek movie starring George Takei called "Target the Center of That Explosion and Fire!" And so would we.)
Here's what I'd like to add to Campbell's all important discovery of the "fuck yeah" moment: It's harder to root for characters who don't have them. In fact, I'd say it's hard even to identify with characters who don't ever make you go "fuck yeah."
You'd think it would be easy to identify with a character who never gets to have a "fuck yeah!" moment. After all, most of us go through our lives hardly, if ever, having a real-life moment where we get to say "Target the center of that explosion and fire!" It just doesn't happen that often. For most of us, anyway.
But most genre entertainment, and especially science fiction, revolves around a kind of heightened reality, and even the most dystopian or dark stories involve an element of escapism. (And we think escapism is a form of high art.) So most of us would rather identify with a hero who occasionally has a moment of pure shit-kicking splendor — rather than someone who accurately reflects our own "going to work and walking the dog" existences. Also, there's an element of aspiration in identification.