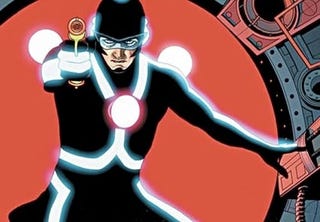 Video-game movie mastermind Paul W.S. Anderson will be directing Buck Rogers, the movie. Thank goodness the screenplay was penned by the Iron Man scribes. But it's still likely to be a disaster of epic proportions.
According to Variety, the basic bare minimum premise of Buck Rogers will stay the same for Anderson's film. The screenplay written by Art Marcum and Matt Holloway will revolve around, "a relatable present-day hero flung into the future."
Sure, we love the Resident Evil saga, which the director both wrote and (in some cases) directed — but Buck Rogers isn't material that can be neatly translated with first person shooter montages where Rogers flies over stars to power up his weapons. Yes, Death Race, we all know you were a video game disguised as a movie.
First, Buck Rogers has taken on many, many forms. From the comic strip, books, radio, the films, comic book reboots to the TV series, Buck has been through a lot. It would take a wealth of knowledge to adapt this character in a respectful manner, and no we're not just talking about throwing in a shameful Twiki reference here and there. And while we think Anderson has a flair for a great action scene, we're not sure how dedicated he truly is to respecting his source material, after AVP and Death Race. Rather, he seems more willing to take the germ of an idea and just go completely left-field with it.