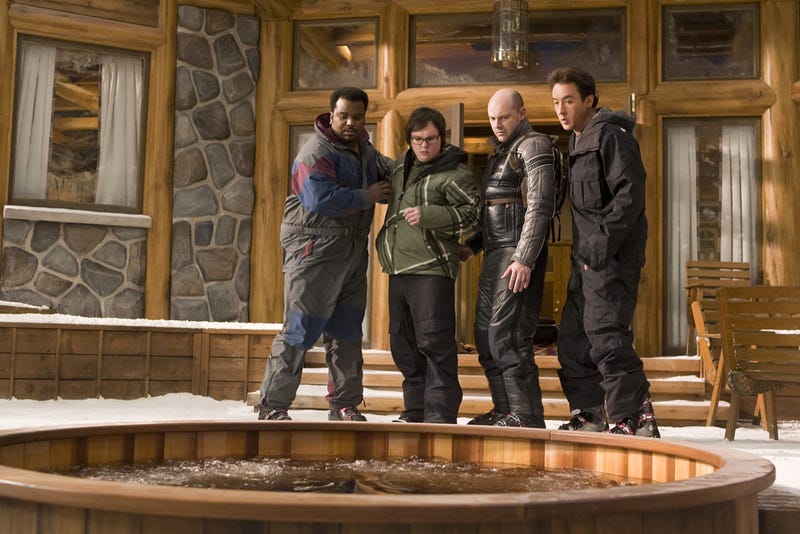 We know: This Hot Tub Time Machine thing is confusing. Is it a Hangover-style raunch-comedy? A time-travel epic? A 2001: A Space Odyssey-style journey into the vortex of our deepest souls? We answer your hot, wet questions below. Spoilers ahead...
What's Hot Tub Time Machine About?
Actually, the title's pretty self-explanatory.
So it's about a hot tub... that's also a time machine?
Okay, we take it back. It's not self-explanatory at all. Actually, the hot tub is not a time machine. Rather, it astrally projects three middle-aged losers back in time, so that they occupy the bodies of their younger selves for a steamy ski weekend when they confronted questions of life, love and identity. And stuff. But the fourth occupant of the hot tub, a kid named Jacob (Clark Duke) who wasn't born yet in 1986, gets physically transported back in time.
That's pretty confusing. So it's only a time machine if you weren't alive in 1986? Otherwise, it just transplants your mind backwards in time into your younger self?
That's right.
So I've heard a lot about the fact that Crispin Glover is in this movie, in a small but crucial role. I have a vague recollection that Glover was in the Back To The Future movies, except for the third one, where he was replaced by a wig. So is this movie's storyline similar to Back To The Future?