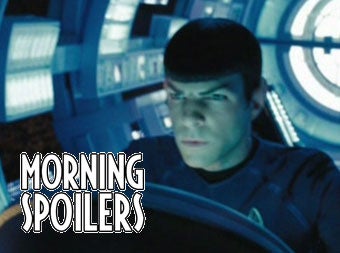 Tron Legacy set pics reveal Jeff Bridges in a decadent cyber-world nightclub. Adrien Brody talks Predators and Michel Gondry talks Green Hornet. Crucial Doctor Who dialog is revealed! A Priest sneak peek! Plus Spider-Man, Teen Wolf, Lost, Caprica and Chuck.

Tron Legacy:
Slashfilm visited the set of Tron Legacy and witnessed one of the infamous cyber-nightclub scenes. Apparently the club is called "End Of The Line" and it's the top floor of the highest building in the cyber-world. Kevin Flynn is there, and extras in the glowing suits are wielding glowing light discs. More pics at the link. [Slashfilm]


Predators:
Adrien Brody says he worked in a kind of homage to one of the original film's most famous moments:
So there was a moment [in 'Predators'] where I added a 'Run! Get to the chopper!' moment, which [led] my fellow cast [to make] fun of me for most of the movie. But that's what's in this little teaser that's about to drop [at SXSW]. It was like an homage to him. It's not the whole movie, but there's this moment of just pure Arnold. I think it's so cool.
But he won't say if the new film includes the line, "If it bleeds, we can kill it." Nor is anyone sure whether Arnie will make another one of his famous CG-faced cameos. [MTV]
Spider-Man:
A random fan says he ran into Brian Bendis, writer of Ultimate Spider-Man, and asked him about this movie reboot. And Bendis pointed to a copy of Ultimate Spider-Man Vol. 1 and said, "From what I've heard, it's going to be exactly like this." (Bear in mind, this is hearsay, and Bendis recently said he's not really involved with the movie. So please treat this as a rumor and utilize "grain of salt" technology, unless we hear from Bendis directly.) [Latino Review]