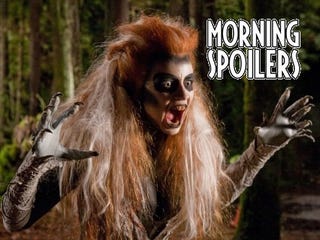 Get a closer look at Iron Man's next-gen armor, and learn why Thor comes to Earth. Vera Farmiga talks Duncan Jones' Source Code. Yet another Lostie returns. More Doctor Who pics! Plus Kick-Ass, Supernatural, Smallville, FlashForward and Stargate Universe spoilers.

Iron Man 2:
New theater "standees" give us a better look at Iron Man's new armor as well as the War Machine armor. Dude! [Slashfilm]


Thor:
Marvel and Paramount released an updated synopsis for this film, which gives a few more hints about just why Thor is banished to Earth, as well as what follows him here:
At the center of the story is the mighty Thor (Chris Hemsworth), a powerful but arrogant warrior whose reckless actions reignite an ancient war. Thor is cast down to Earth by his father Odin (Anthony Hopkins) and is forced to live among humans. A beautiful, young scientist, Jane Foster (Natalie Portman), has a profound effect on Thor, as she ultimately becomes his first love. It's while here on Earth that Thor learns what it takes to be a true hero when the most dangerous villain of his world sends the darkest forces of Asgard to invade Earth.
Source Code:
Duncan Jones' second movie has a pretty complicated plot, says co-star Vera Farmiga. And she says that even though there's a lot of action in the movie, her part of it is pretty "static." (Previous reports described her character as a "hands-on" communications expert who guides Jake Gyllenhaal's actions as he relives a train bombing over and over again.) [MTV]