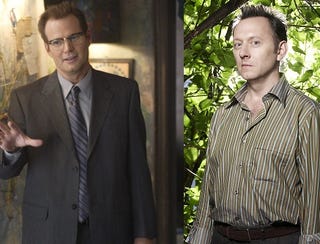 Two genre TV shows really broke out of the pack and captured the popular imagination in the past half-decade: Lost and Heroes. They both showed how genre TV can rule the DVR era. What's going to happen when they're gone?
We still don't know, of course, if we've seen the last of Heroes. It could come back, either in the fall or in January, but if it does, it'll likely be some kind of "final chapter" miniseries, wrapping the show up. Whether we get to see Sylar channeling Daniel Day Lewis in The Unbearable Lightness Of Being one more time, though, it feels like the era of Lost and Heroes is coming to an end with this TV season.
It's hard to remember now, but there was a time when Heroes was up there with Lost, and both shows were among the dozen or so most discussed series on television. Heroes' first season was a phenomenon, for similar reasons to Lost's success — a sprawling family drama, dark mysteries and unpredictable characters (like HRG and Clyde).
Both shows managed to thrive, in the era of TiVo, by being watercooler viewing. If you missed the newest episode of Lost or Heroes, you'd have to listen to your coworkers talking about it the next day. The challenge of DVR viewing is especially huge for shows that capture a large nerd audience, probably because nerds are early adopters. I always think it's funny when TV execs tout the large numbers of people who watch their shows via DVR after the fact — sure, it adds to the overall number of viewers. But when genre shows have large numbers of late DVR viewers, that's not good news. It means those shows aren't addictive enough to be same-night viewing.
(And also, of course, the "watercooler" thing is probably way less effective for shows that air on Friday nights, in which case you have until Monday to watch them, even assuming your coworkers are going to talk about them anyway.)
In the past half dozen years, a lot of other shows have had strong opening weeks — followed by sharp drop-offs. I've argued before that science fiction movies and TV shows show the same pattern, in fact. A blockbuster opening weekend, fueled by buzz and spectacle, and then catastrophic drops in successive weeks. SF shows with record-breaking huge pilot ratings have included Bionic Woman, Terminator: The Sarah Connor Chronicles, FlashForward and V. Pilot episodes tend to be mini-movies, too, directed by actual film directors or hired-gun pilot directors, and featuring huge special effects budgets. It's always a bit of a letdown when a show settles into its normal pattern of smaller-scale adventures, after a huge blockbuster pilot.