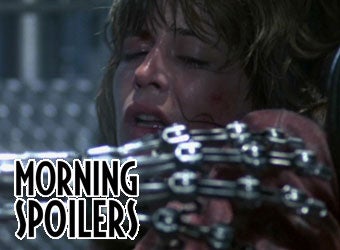 Will any elements from Tron Legacy's face-clawingly awful early script make it into the final movie? Let's hope not. Supernatural plans to break your heart. Plus Lost, The Crazies, Nightmare On Elm St., Chuck, V and FlashForward spoilers.
Oh, and not only am I sticking the Lost spoilers at the bottom for easy scrolling, I'm also putting the least spoilery items at the beginning and end of the Lost bloc, to minimize the chances you'll see something as you scroll past, Lost spoiler-phobes. Least we can do, really.
Tron Legacy:
We already linked to one review of this movie's script, back in June, but there's a new, quite damning, script review online. However, it's a review of a very early draft, from back when this film was still called Tr2n, and there have been tons of rewrites by Lost's Adam Horowitz and Edward Kitsis since. It's also entirely possible this is a fake, since it bears little resemblance to the plot descriptions for Tron Legacy we've come across. Still, it's possible some elements linger on.