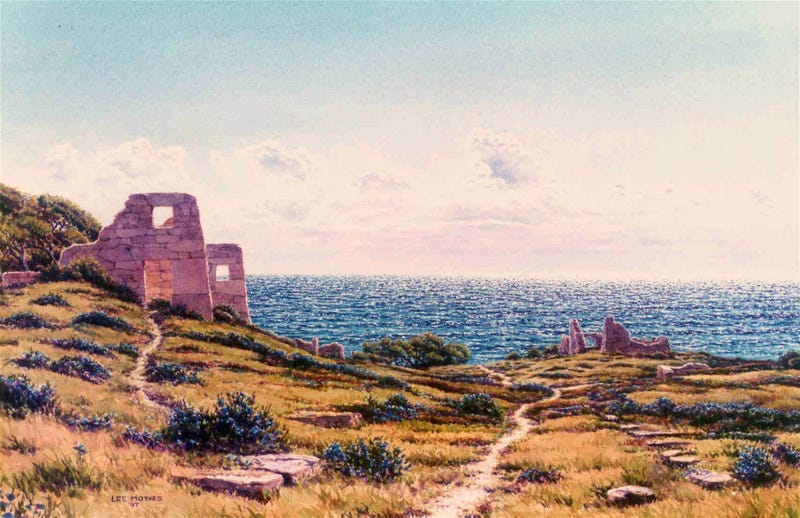 You can't find New Island on most maps of the Indian Ocean because its location was a secret for most of the twentieth century. But now one man has chronicled the long, strange history of its ancient inhabitants.
The ruins you see here come from a group known locally as the "Old People," who probably started living on the island 43,500 years ago. In the modern age, the island was discovered in the late eighteenth century by two convict ships that crashed there on the way to Australia. One of those ships was filled with hundreds of female convicts, who eventually founded their own civilization on the island, based on sexual equality and paganism. Today the island is a bustling place, full of trains and welcoming visitors.
Unfortunately, you can only visit via a website created from the imagination of Lee (Rusty) Mothes, a worldbuilder who loves to draw maps and island landscapes. New Island is a place he's been imagining for over a decade, and he finally put all his pictures and ideas about it into one place, which reads like a work of fantasy travelogue.
Here, for example, is Mothes on the ruins:
More thorough digging in later years has revealed that the hilltop ruins were built by a prosperous and intelligent population. The oldest signs of habitation, found in some caves on the island's eastern coast, date back to 41,500 years BCE, according to carbon dating techniques. Known locally as the "Old People", this pre-European civilization left impressive stonework buildings, harbors, roads, fortress walls, and several curious platforms at the ocean's edge before disappearing about 800 years ago!
At one point, New Island was menaced by an iceberg - roughly around the same time New Zealand was being menaced by icebergs too. Mothes naturalistic painting and map-making skills make this a place that I'm now longing to visit.