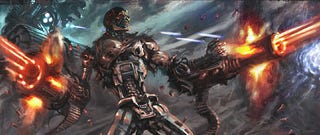 Now that hedge-fund Pacificor has spent $29.5 million for the Terminator movie rights, a new chapter in the war against Skynet seems assured. We're betting it'll be a reboot — and here's how it could be a decent movie.
Pacificor won the auction for the Terminator movie rights, but has given losing bidders Sony and Lionsgate "an exclusive window" to make the next film in the series. (I'm guessing "exclusive window" means the two studios have to make the film within a certain period of time, or they lose their chance.) And with so much money already invested in this property, it seems likely that a new movie will happen soon. But Terminator Salvation didn't do well enough to justify a second McG-helmed feature, or a film that explicitly follows up on that film. There's already been talk about restarting the Terminator saga from square one.
Let's be clear: The best thing that could happen to the Terminator series might be a long, healthy rest. There's really no reason to drag the endoskeletons out of mothballs for yet another formulaic string of chase scenes any time soon. At the very least, Terminator should take as long a rest as Star Trek took after Nemesis and Enterprise. But if we have to get a new Terminator film soon, then a reboot is the best way to go.
Sure, we're sick of the plague of reboots and "reimaginings" in Hollywood, but the Terminator saga might be the rare case where starting over from scratch makes sense. Terminator Salvation was a scorched-Earth campaign of storytelling — there's nothing in that film that we were left wanting to see more of. The little psychic mute girl? Teenaged Kyle Reese who has to be protected at all costs so he can father John Connor in the past/future? John Connor with the cyborg super-heart in his chest? The inept, gullible resistance leaders? No thanks. If you did a sequel, you'd have to ignore all those elements and just pretend the last movie didn't happen.
More than anything, Terminator Salvation made a powerful argument that the series was played out. There have been too many trips back in time, too many alternate timelines.
Most of all, there's the fact that Terminator 5 sounds like a direct-to-DVD movie starring the guy from the most recent Knight Rider TV series. Terminator 5 doesn't sound like a major theatrical release. (They wouldn't call it Terminator 5, of course. But that would be the perception.
What would be awesome, of course, is if the studios turned around and handed control of the Terminator series over to Joss Whedon, who bid $10,000 for it and probably has a terrific idea for a Terminator film. Or if they backed up a truck full of money to Josh Friedman's house and got him to write a movie loosely based on Terminator: The Sarah Connor Chronicles, his brilliant show that was hobbled by the writers' strike. Neither of these things will happen, more's the pity.