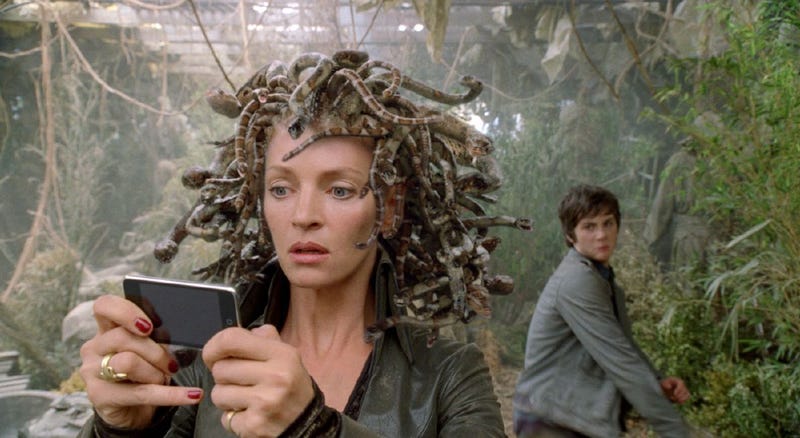 When you watch Percy Jackson and the Olympians: The Lightning Thief, you may start wondering if it's a straight-up remake of Avatar. The plot similarities are uncanny after a while... almost like the Hand of Destiny is at work. Spoilers...
Consider the stories of both movies: There's a guy, who's just a plain ordinary Joe, and he's got a disability. But then he finds out that he's special, and this allows him to go into a world of strange creatures. And he turns out to be half-human, half-awesome. He meets this warrior princess who's totally bad-ass and amazing, but then the awesome chick is into him, and she sees in him a total sizzling radness that even he didn't know he possessed. Soon he's kicking all kinds of ass — except that there's a thing, a sort of priceless source of power. These people want to get their hands on it, and they'll destroy absolutely everything cool to get it. All that will be left will be total uncoolness. It's up to the ordinary guy to step up and save everyone, while the awesome warrior princess watches and admires him.
Dude! They're like the same movie! James Cameron should sue!
Of course, that's also pretty close to Star Wars and Harry Potter and Eragon and a jillion other movies besides. Percy Jackson is the usual paint-by-numbers "hero's journey" thing, Joseph Campbell reduced to a fast-food restaurant map. There's a fresh new coat of paint and a smattering of Greek mythology slapped on the old chassis, but at every point in this film, you'll know exactly what's going to happen long beforehand.