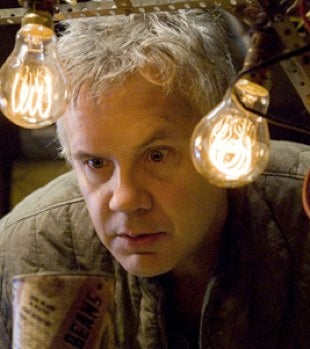 The Green Lantern cast is finally coming together. The latest addition: Tim Robbins as the disapproving father of one of the film's many villains — a character who's not in the comics. Spoilers ahead...
According to Heat Vision:
Robbins will play Senator Hammond, the disapproving father of the movie's villain, Dr. Hector Hammond (Peter Sarsgaard), who becomes infused with psychic powers.
While Senator Hammond isn't in the comic books, he is mentioned in the screenplay we reviewed a while back. The son and villain in question, Dr. Hector Hammond, performs an autopsy on a dead alien Green Lantern, Abin Sur, who passed on the ring to Hal Jordan right before his passing. The alien infects Dr. Hammond with superpowers, making him an amazing telepath. Unfortunately, it's with these gifts that Hammond realizes everyone, including his own father, hates him. So there's nothing left to do than destroy Hal Jordan, the Green Lantern and everyone else, out of spite.