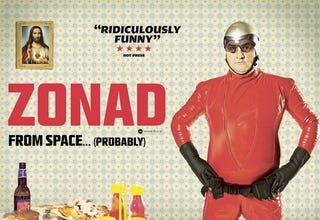 We've got a collection of aliens, fake aliens, bigfoots and one demented Robin Hood film. This week on Cult, the strange gets stranger, but we promise you'll like it more than K-Pax.
ZONAD
Remember how much you hated K-Pax? Well it's time to wipe that horrible banana-eating dog-talking, alien stink away. There's a new "fake alien" film out that is actually getting a positive response - no, not Martian Child... The film is called ZONAD. We have very, very little on this film besides a small trailer, and a pretty good review via Quiet Earth, but we trust their judgment. It seems to follow the fake alien synopsis but with a little help from the locals. But are the K-Pax wounds healed enough to try and watch another one of "these films." I say yes.
Synopsis:
From beyond the very limits of our imagination comes a stranger. Who is he? What is he? And why is he so thirsty? These are the very questions asked by the inhabitants of Ballymoran, a sleepy village nestled deep in the Gilhooly mountains when they discover a "visitor" in their midst.
Earthling
This pretty little film called Earthling is about how we're all LIVING A LIE, or, at least, these humans who woke up on a spaceship after some sort of "happening" are. The film is premiering at South By South West festival, but we can't tell much about it yet, other than the director has nice taste in music and enjoys green filters. Still, we're interested.
Mutants
Here's the older trailer complete with Frenchie dialogue. If you can speak it, please help me translate the radio warning. I want to know how to make "we're all going to die" sound sexy.