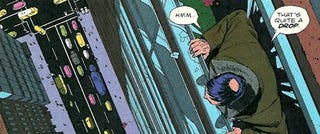 Once we got over our shock at the rumor that DC Comics may be planning a sequel to Watchmen, we started wondering: What would be the best way to go about it? And could it ever be worth it?
Here's the thing; even though Rich says his rumor was triple-sourced, it still seemed very unlikely to me - Watchmen, after all, isn't just a comic anymore, but an idealized platonic ideal of a comic that has come to mean more to people than it was probably intended to. Surely, I rationalized, DC are smart enough not to fuck with that legacy for short-term gain and a few dollars. I mean, that'd be like doing a sequel to The Dark Knight Returns or two unrelated sequels to Kingdom Come... Ah, crap.
But what would a Watchmen spin-off look like? Who could do it justice... or, for that matter, would be willing to try? Putting aside all ideas of potential disaster, here are what I think are the most likely scenarios.
The Story
Rumor has it that both prequel and sequel to Watchmen are being considered, and there're definitely arguments to be made for both. A prequel would allow creators the chance to show familiar characters in familiar situations, and play off both the "more innocent" earlier days and the dark undercurrent that ran beneath them. It would also allow for a more traditional superhero set-up, which may be what readers would want to see, whereas any sequel would either have to flesh out a post-squid world only hinted at in the original book (and come up with a new reason for the characters to come together that doesn't betray the end of the original), or else create something entirely new that somehow ties in with the original story.
If I had to choose where to set a spin-off, we'd go for the less popular option: Set it after Watchmen. Not only would a prequel... well, be a prequel, but Watchmen pretty much filled in all of the character beats from what went before, meaning that a prequel would either be a retread or adding unnecessary complications. Not only is the post-squid world of Watchmen open for invention, the book ends with a cliffhanger of sorts that would easily provide the main narrative for a sequel: What happened to Rorschach's journal?