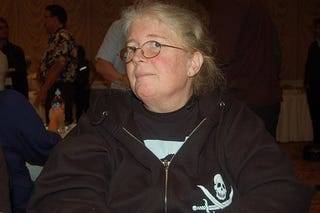 This past Sunday, Kage Baker lost her year-long battle with cancer. We science-fiction readers have lost a brilliant author and a dear friend.
Ms. Baker will be long remembered for her Company series: a wonderful collection of eleven novels, two novellas and scads of short stories that began with In the Garden of Iden in 1997. These relate the exploits of immortal cyborgs, plundering history for greedy corporate masters in the 24th century. I cannot do justice to this highly entertaining and satisfying body of work in this short post, but rest assured, I will be presenting a more in-depth overview of the Company and its tales of time-traveling adventure, humor, conspiracy, romance and chocolate in the very near future.
Until then, here are my previous reviews of Empress of Mars and two shorter pieces. I also mentioned her last Company-related novel Not Less than Gods in my rant about Steampunk. The latter will coming out from Tor in March with this spiffy new cover.