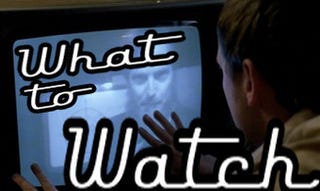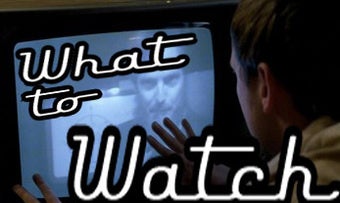 Let's not even pretend that you're not all planning your week around one particular television event, shall we? It's been a long time coming, but finally, Smallville: Absolute Justice is here... Oh, and that weird Lost show is back, too.
WEDNESDAY
So, after Star Trek: Enterprise and Star Trek: The Next Generation, it has to be another Trek marathon on Syfy, right...? Well, no; it's a marathon of the Friday The 13th TV series from 8am through 3pm, which is... not so good, let's be honest.
THURSDAY
Okay, so Special Unit 2 (Syfy's marathon of the day from 8am through 3pm) is new to me, but any show that turns kids into zombies through the medium of television is fine with me. Otherwise, you're stuck with the usual Thursday night line-up: New Vampire Diaries on the CW at 8pm (Here's the amazingly long synopsis for the episode: "In flashbacks, Stefan and Damon recall the long-ago actions taken by townspeople including their father, Guiseppe Salvatore, and Pearl, leading to the devastating events that caused the rift in their relationship. In the present, Bonnie's date with Ben takes a frightening turn. Elena helps Stefan as he and Damon race to find the missing journal that belonged to Elena's ancestor. Stefan learns the reason behind Alaric's interest in both the journal and the town's history. Damon discovers that an old acquaintance has returned to town with an agenda he understands." That's just the shortened version, people), followed by new Supernatural on the same channel (Anna goes back in time using Angel Power to stop Sam being conceived. If that didn't seem awesome enough for you, the episode is called "Back To The Future II." It's like they're making the show just for us, now). Or, of course, there's always Fringe on Fox, also at 9:
After a violent tremor shakes a Manhattan office building to its core, leaving only one survivor who leads the Fringe Team to believe he is not from this reality. Walter surmises that what shook the building was not geologic, but rather something discovered by him and William Bell many years ago. With another catastrophe imminent, the team races to Jacksonville, the site of Walter and William's experiments, forcing Olivia to face her mysterious past in an effort to save hundreds of people from certain death.
FRIDAY
If it's Friday, it's Twilight Zone marathon day on Syfy (8am through 3:30pm), and also new Ghost Whisperer (Margaret Cho plays a professor stalked by a secret admiring ghost. Yes, Margaret Cho is on Ghost Whisperer. My mind may just have been blown as well) and Medium on CBS at 8 and 9pm, respectively. Of course, your 8pm is already taken, what with the premiere (finally) of the two-hour Smallville: Absolute Justice on the CW, which means you'll just have to TiVo Caprica on Syfy at 9 and watch it later. But, considering how good last Friday's episode was, make sure you do TiVo it.
(Also, comic fans? Make a point of watching Batman: The Brave and The Bold on Cartoon Network at 7:30pm. Zur En Arrh. That's all I'm saying. There's also a new Star Wars: The Clone Wars on CN at 9.)
SATURDAY
It's like my grandmother used to say: "Saturday night is Syfy Original Movie Night, especially with The Cursed on at 9pm, followed by Dominion: Prequel To The Exorcist at 11." For those without such wise older figures, you can always tune into the series finale of Demons on BBC America at 9pm.
SUNDAY
Because the television gods are kind, occasionally, celebrate surviving another week with The Adventures Of Buckaroo Banzai on IFC at 3:30. There may be no better way to finish your weekend.