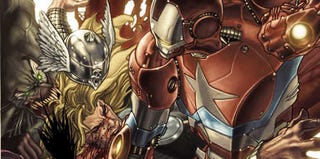 The fix is in: In this Wednesday's second issue of Marvel Comics' Siege series, an Avenger will die! But instead of surrendering to the hype and bloodlust, we thought we'd take a look at who it may be... and why.
Marvel's solicitation for the issue reads
The blockbuster Marvel event of the year goes full-blown carnage and madness as the biggest and most brutal battle in Marvel's history brings together heroes from all sides. Lines have been drawn, and an unlikely hero will save one Avenger, but they can't save them all. The Siege has begun and it claims its first victim as AN AVENGER WILL DIE!!
and if there's one thing we know, it's not to ignore advertising text in all caps. If there're two things we know, it's also that Marvel likes to mark their events with a death wherever possible: Civil War saw the death of Black Goliath - mourned by no-one - while Secret Invasion ended with the seemingly out-of-nowhere sacrifice of the Wasp. But are Marvel's event deaths limited to women and minorities? We look at the possibilities.
New Avengers
Marvel's longest-running Avengers comic may no longer live up to its title five years in, but that doesn't change the fact that it's still the book that sets the agenda for the rest of the Marvel Universe. But will that agenda include... death? Click here to find out.