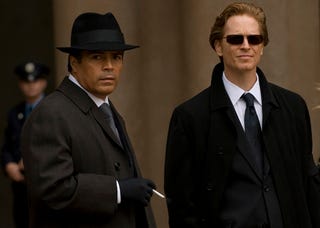 This Friday brings the first episode of Battlestar Galactica spinoff Caprica, a noir-scifi drama set on the planet Caprica 58 years before the cylons nuke it into oblivion. Based on the pilot, we think this series could become a classic.
Of course there are many reasons Caprica might fail, not the least of which would be poor audience ratings. Many fans of BSG are still smarting from that series' disappointing conclusion, and are predicting that Caprica might take an abrupt nosedive into lameness. But the current facts are these: Caprica is a completely different series, and based on what we've seen so far, it is the coolest new SF show on the air. Here are five reasons why.
1. Intriguing, thoughtful worldbuilding
As I wrote a couple of weeks ago, the worldbuilding that went into creating Caprica City and the culture of Caprica is simply superb. We're introduced to a culture where paganism is mainstream and sexual mores are extremely liberal, but immigrants still suffer discrimination and monotheists are outcasts. Unlike most SF shows, where worldbuilding is often something like "everything is the same except the technology is better," Caprica challenges us to imagine a society radically different from our own. Also, the concept design of the city - which was shown off to great effect in the broadcast version of the pilot - is breathtaking. The futuristic technology isn't bad either.