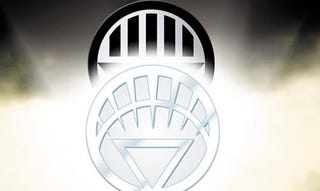 DC's hyper-successful Blackest Night series will, we know now, be followed by a year-long series/event called Brightest Day. But is this really DC's answer to Marvel's "Heroic Age" era of optimism, or should we expect something more ambitious?
DC announced Brightest Day - The title of which obviously plays off Blackest Night and the classic Green Lantern oath, which begins "In brightest day, in blackest night," for those of you not versed in DC nerditry - earlier this month; It's a 26-issue biweekly series starting in April, written by Blackest Night, Green Lantern, Superman: Secret Origin (and many more) writer Geoff Johns and Green Lantern Corps writer Peter Tomasi, that also happens to spill over into various other series that will bear Brightest Day banners over the course of the year (Including both Green Lantern books, The Flash, Justice League of America and Titans, the spin-off from Teen Titans, as well as new launches). But... what is Brightest Day?
On the one hand, it's DC learning from, and building on, Marvel's successes. Something that Marvel have become very good at over the last few years is building upon the success of their crossover events by branding the fallout: Civil War launched a year of The Initiative branding, and Secret Invasion brought us a year of Dark Reign. In both cases, Marvel used the branding to maintain not only a sense of cohesiveness in terms of direction, but also importance to the story and continuity from the successful miniseries ("Look! This is where you can find out what happens after Civil War!"). This isn't the first time DC have tried a variation on that idea (They've previously tried bannering books with Infinite Crisis Aftermath and Final Crisis Aftermath titles), but it is the first time they've tried doing it the Marvel way - by attaching the banners to a core storyline. Where they're changing things up is providing a central title for that storyline; whereas Marvel's post-event branding trailed through various series with the occasional mini-series or special issue to point out highlights, the biweekly Brightest Day title harkens back to DC's own successful innovation of recent years: the weekly event book, and in particular, 52. Johns, one of the four writers on 2006's Infinite Crisis follow-up, made the connection clear in an IGN interview about the project:
If you look at the relationship between Infinite Crisis and 52, Blackest Night and Brightest Day share a similar relationship, though Brightest Day is a very different beast.
Potentially, this could be the best of both worlds from a publishing standpoint - the franchise/branding success of Marvel's Initiative/Dark Reign, and the clarity of story from their own 52 - although we wouldn't blame fans if they were worried about a re-run of DC's last attempt at year-long branded multi-title continuity, the confused and over-saturated Countdown to Final Crisis.
None of that explains what Brightest Day the series will be. The title definitely suggests the return to optimism and innocence that we forecast at the start of the year, but we admit to being somewhat intrigued by DC's executive editor Dan Didio calling the series "DC Universe: Rebirth" and Johns' comments about what the purpose of the series is: