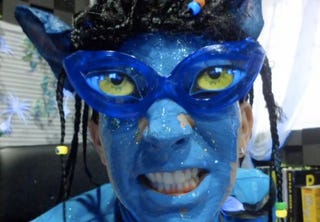 Avatar sets new records this week, whipping past The Dark Knight like an AMP suit running past a Batpod. But will the success of the Na'vi spell doom for Disney/Pixar's John Carter of Mars?
Variety is reporting that Avatar has finally beat the Dark Knight's $533.3 million record, by grossing $552.8 million domestically, thanks to another winning weekend. While the film still trails behind Titanic in the U.S,. the gap is closing, and it's already beat Titanic's 1.24 billion international sales with an astounding $1.28 billion. Making Avatar the most successful film internationally... for now.
Let's all hope this does what we're predicting and opens new doors for big-budget science fiction undertakings cinematically. But what about the next gigantic scifi picture from Disney, John Carter From Mars? A film that already has the the funds, the talent and is in production right now. Many skeptics are wondering if the similarities between the two, coupled with the timing, will inevitably doom John Carter to being viewed as "just another alien feature" by audience members.