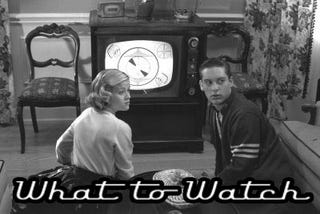 The Late Night Wars may be over, but television finds itself unable to stop. This week alone, there're new episodes of Chuck, Supernatural and Caprica, not to mention the final ever episode of Dollhouse. Hankies and actives at the ready!
TUESDAY
Your Syfy marathon of the day? That would be The Twilight Zone, from 8am through 3pm. If you missed Caprica on Friday, there's a rerun at 8pm for you to catch up, or you could just watch Better Off Ted on ABC at 8:30, instead. 9pm brings either a re-run of last season's Lost finale on ABC or a new episode of the not-really-io9 Human Target over on Fox (shifted from Wednesday because of the State of the Union).
WEDNESDAY
Invasion lives again on Syfy's daytime schedule, from 8am through 3pm.
FRIDAY
Relive your vampire dreams with Syfy's Moonlight marathon from 8am through 3pm (And, for those of you who watch Castle, look for his apartment in each episode), before considering AMC's Aliens (3pm) and Alien3 (6pm) double bill.
9pm brings a choice between Star Wars: The Clone Wars on Cartoon Network and Caprica's second episode on Syfy. We're suggesting TiVoing for the former and going straight for the latter.
SATURDAY
Choose your televisual weapon at 9pm: BBC America has a new episode of Demons, while Syfy goes all out with their Saturday movie, offering up Meteor Storm.
SUNDAY
Syfy has a marathon of Stephen King mini-series and movies, with Rose Red at 10am, Desperation at 4pm and The Tommyknockers at 7pm, while AMC has The Matrix trilogy starting at 11am, and then again at 8pm, but let's face it; you'd rather be watching Robocop on IFC at 8, right...?