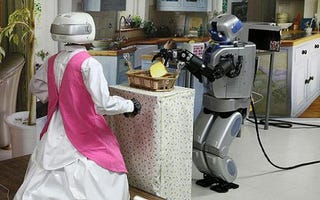 Researchers at the Korea Institute of Science and Technology have created a robot that can do a number of basic household tasks. It's not exactly sprightly, but what are you going to do — program the microwave yourself?
Mahru-Z, the four-foot-tall robotic helper developed by KIST, can make toast, pick up stray objects, and load and operate a washing machine. It can also find its own way through the rooms of a house, though it walks with a painful, hesitant gait that suggests a night of hard drinking. The Mahru-M model, an earlier version created by the same team, is a bit more graceful, using wheels to get from place to place.
Robotic maids have been around for a few years now, but the Mahru-Z is said (by the people who made it) to be the best yet at approximating human movement. This may not be as much of a selling point as the developers believe, based on the clip linked above, so it's also worth noting that Mahru-Z is relatively autonomous. It can navigate the house without any direction or oversight from its owner, and it can perform certain chores without having to be told.